Bubbles and Brunch – SOLD OUT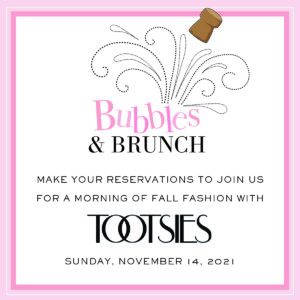 Come bubble and brunch with us! Experience a wonderful meal from the Tea Room paired with your choice of refreshing mimosas, delicious wine or bubbly champagne. Enjoy your brunch while being introduced to the latest fashions from TOOTSIES. But don't be fashionably late! Doors open promptly at 11 a.m. Reservations now open.
Tickets are $50.
Contact the Tea Room Front Office at 713.871.6673 to make your reservation. Payment must be made at the time of reservation. No cancellations or refunds will be issued. Reservations will not be accepted via email. Reservations are only accepted for Junior League of Houston members and Tea Room patron members. If you are interested in becoming a Tea Room patron member, please visit the website or contact the Tea Room Patron Member Chairman at patron@jlh.org.