Charity Ball Preview Night: Fuego & Frosty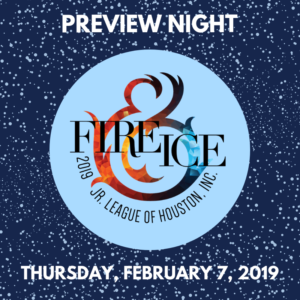 Don't miss out on the hottest ticket to the coolest place in town for the Fuego & Frosty Preview Night on Thursday, February 7, 2019. The night will sizzle with a dinner buffet of spicy and chilly food, frosty adult beverages, a one-of-a-kind Charity Ball volunteer cast performance, an auction filled with cool items and some hot beats with DJ London. Hot surprises are in store, so don't be left out in the cold!
Doors open at 6:30 pm. Event starts at 7 p.m. in the Junior League Ballroom.
Dress: Haute cocktail attire
Tables of 10 for Thursday evening will be available for $1,500.

A limited number of seats will be sold individually for $150 per ticket.

Accommodations for tables of 11 or 12 can be made upon special request following a complete table reservation.

Tables must be reserved with one form of payment only.
To purchase tickets, please click here or contact the Development Office at 713.871.6625 or development@jlh.org.
For questions or to provide the guest names for your table, please contact Kristi Krupala, Charity Ball Invitations and Reservations Chairman, at charityballreservations@jlh.org.