Together – we shine!
This year, the League will honor a member each month with the Membership Spotlight Award for going above and beyond in service to our community and organization.
This award reflects the fact that the League is made up of incredible women doing incredible things: Together – we shine!

June 2022: Kenedy Hughes Rajabian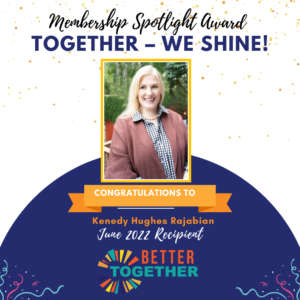 Kenedy has gone above and beyond in her preparation for the recently created role of Videography Chairman. Kenedy is working on a way to honor the League's past, continue and build upon Tutu Okongwu's beautiful videos and capture 2022 – 2023 League events. Before the League year started, Kenedy interviewed JLH leaders to create a timeline of events, collect prior anniversary videos and request proposals from professional videographers. With her innovative spirit and professional expertise as an Events Associate Director, we are sure to see video incorporated into all League communications and initiatives. A transfer from the Junior League of Corpus Christi, Kenedy has taken on multiple roles in JLH such as Memorial Hermann Hospital Puppetry and Play Volunteer, Charity Ball Assistant Chairman and Membership Council Assistant. To each role, she brings enthusiasm and dedication, uplifting her team and making the League better in the process. Thank you, Kenedy, for all your hard work!