Together – we shine!
This year, the League will honor a member each month with the Membership Spotlight Award for going above and beyond in service to our community and organization.
This award reflects the fact that the League is made up of incredible women doing incredible things: Together – we shine!
October 2022: Tiffany Echevarria
Diversity Equity and Inclusion Manager – Training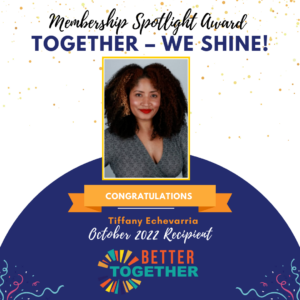 Joining the Junior League of Houston in 2019 – 2020, Tiffany has served as the Tea Room Sub-Council Assistant and as a Holocaust Museum Houston Volunteer. This year, she is fulfilling the role of Diversity Equity and Inclusion Manager – Training where she is exceeding expectations! The 2022  – 2023 League year is the first year Diversity, Equity and Inclusion (DEI) trainings are being incorporated into the various areas of the League including the Provisional Course, the Transfer Course and the LIT Program. Tiffany went above and beyond as she crafted a course that created a safe space for our members to fully engage and learn more about DEI. In this course, she guides members through learning about what makes up their own identity and allows them to share that with others to see the diversity of the other women in the training. She also breaks down the 5D's of bystander intervention, walks the group through different scenarios and asks for feedback on how the group would handle the situations. Tiffany delivers this presentation in an incredibly captivating way, and she has ultimately provided the League with a wonderful DEI Education tool to build upon and utilize for years to come. Outside the League, Tiffany is the Executive Director for Collective Action for Youth. Thank you, Tiffany, for leading us and developing our potential to have a meaningful impact on our community and fellow members!
September 2022: Kaliko Veiseh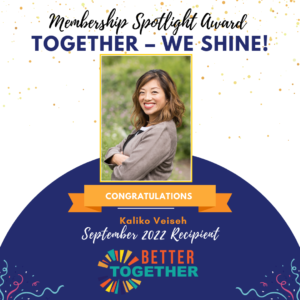 Kaliko has been a member of the Junior League of Houston since 2017, transferring from The Junior League of Boston where she started her League journey in 2012. In the five years she has volunteered with JLH, she has served the community as a Baylor Teen Health Clinic – Phone Outreach Volunteer, Sheltering Arms Senior Services Chairman, Communications Sub-Council Assistant, and sat on the League's Investment Committee for three years. This year, she is shining in her role as the Sustainer Assistant Chairman. She has been extremely helpful in developing new processes and procedures for the Sustaining Club communications newsletter ("Sustainer Buzz"). She has gone above and beyond to research and implement many changes this year and has really streamlined the communications and newsletter for the Sustaining Club. This process will not only be beneficial this year, but going forward, it will help sustainers reach and engage more members. In her nomination, it was noted that "Kaliko has been extremely resourceful, and she has done a wonderful job thinking outside the box and developing very innovative communications solutions. She is always upbeat, positive, and willing to take on whatever needs to be done to improve the process." In addition to her League endeavors, Kaliko works full time as a Senior Wealth Advisor for Soundmark Wealth Management, LLC. She also currently serves as the President of the Bellaire / Southwest Houston Rotary Club and is a wonderful mom to her two children. Thank you, Kaliko, for taking on this important project and being a light for our Sustainers!
August 2022: Yemi Olatunji-Brown – Community Treasurer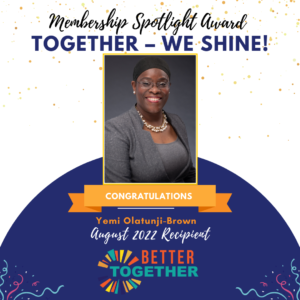 Yemi is described by many fellow League members as a JLH "rock star"! Yemi excels within her role as Community Treasurer as well as being an excellent leader around the League. Recently, Yemi took the initiative to sign up for a SET that did not have enough volunteers to carry out a JLH Special Event. While working the SET, she supported the team with last minute needs putting her fellow volunteers at ease. She helped volunteers navigate League tools to complete the task correctly and efficiently. Yemi's calm temperament makes fellow members feel comfortable and confident when she's leading the way. Yemi is organized and detail oriented, always going the extra mile when needed. When Yemi is at the League she is always willing to help a member navigate the building or complete a task. While being committed to her role at the League, Yemi is currently in a career transition as well as in the final year of her accounting studies at the University of Houston – Downtown. Most importantly, Yemi is a supermom to three young men and an encouraging friend to many. Thank you, Yemi, for being a rock star friend, volunteer, and leader within our League!
July 2022: Courtney Reynolds – IMPACT Chairman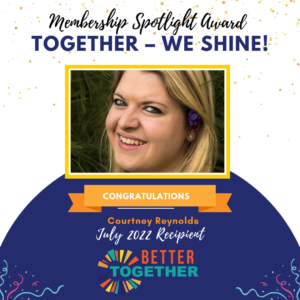 Courtney is shining as this year's IMPACT Chairman. Going beyond the IMPACT placement form, she is meeting with all non-placement agencies who requested League volunteers via IMPACT shifts – upwards of 60 agencies! By doing this, she is ensuring that the League can serve them better, communicate our needs and limitations more effectively, and if JLH was unable to provide volunteers in the past League year, re-cultivate those relationships. She has found that in meeting with the agencies, she has been able to acquire a global view of each agency and their needs, connecting them to other JLH chairmen if they wish to further support their mission with JLH assistance. In June, Courtney led an informative placement training for IMPACT volunteers – the first one back in the League building for many members. She knows that a good volunteer is a happy volunteer, and she reiterated this fact by telling attendees that their health and well-being come first. These members expressed their appreciation for her candidness and concern, leaving members inspired and excited to start! Courtney's compassion and leadership skills are not only an asset to the League but also to her role at Bo's Place as the Special Programs Manager. Thank you, Courtney, for all that you are doing to help make the League, and our community, shine!

June 2022: Kenedy Hughes Rajabian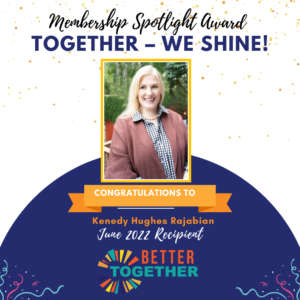 Kenedy has gone above and beyond in her preparation for the recently created role of Videography Chairman. Kenedy is working on a way to honor the League's past, continue and build upon Tutu Okongwu's beautiful videos and capture 2022 – 2023 League events. Before the League year started, Kenedy interviewed JLH leaders to create a timeline of events, collect prior anniversary videos and request proposals from professional videographers. With her innovative spirit and professional expertise as an Events Associate Director, we are sure to see video incorporated into all League communications and initiatives. A transfer from the Junior League of Corpus Christi, Kenedy has taken on multiple roles in JLH such as Memorial Hermann Hospital Puppetry and Play Volunteer, Charity Ball Assistant Chairman and Membership Council Assistant. To each role, she brings enthusiasm and dedication, uplifting her team and making the League better in the process. Thank you, Kenedy, for all your hard work!