Houston Students Get Set for Success in the New School Year with Help from The Junior League of Houston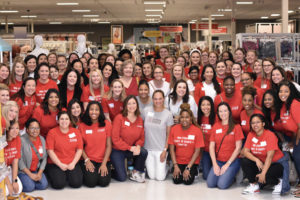 Volunteers from the Junior League of Houston served as personal shoppers during the annual Childspree event benefiting Child Advocates, Inc. at Target on Saturday, August 17, 2019.
Smiles and school supplies were abundant as the Target Central store welcomed over 100 Junior League volunteers to assist more than 100 foster-care children with back-to-school shopping before opening to the public for the day. Volunteers from the League helped the children select back-to-school clothing and accompanied them and their guardians to an in-store breakfast party. Children also received backpacks filled to the brim with school supplies and other necessities to help them transition seamlessly into the new school year and set them up for success. The excitement was palpable and joy was omnipresent, as this was the first time many of the children got to shop for new school clothes and pick out pieces that will give them a sense of confidence, belonging and pride on their first day of school.
For over 30 years, League members have worked with Child Advocates, Inc. in a multitude of capacities, including volunteering for special projects and events, and creating Life Books. The goal is for every child in foster care to have a scrapbook of their life, not only to be used as a therapeutic tool, but often as the only mementos these children have of their biological families.
Source: August 31, 2019, Houston Hip and Haute