Free CPR Training Classes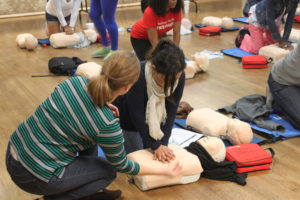 Thank you for your interest in attending the Junior League of Houston's CPR class!
The League offers two types of courses:
The Healthcare Providers course – According to the American Heart Association, the appropriate audience for this course is healthcare providers such as EMS personnel, physician assistants, doctors, dentists, nurses and respiratory therapists. The Healthcare Providers course is comprised of educational material such as adult and pediatric CPR (including two-rescuer scenarios and use of the bag mask), foreign-body airway obstruction and automated external defibrillation. This course includes both a written exam and a skills exam that participants must pass in order to become CPR certified in Basic Life Support (BLS) for Healthcare Providers.
The Heartsaver course – This course is for those who have a duty to respond to a cardiac emergency because of job responsibilities, regulatory requirements or personal desire. The Heartsaver course teaches CPR, AED use, relief of choking in adults and children, infant CPR and relief of choking, and the use of barrier devices for all ages. At the conclusion of the course, a skills test is given to each student and must be passed in order to become CPR certified in Heartsaver AED.
The League does not teach first aid. The class is free and in English only. All participants must bring and show a photo ID to class. Please, no children are allowed in the classroom. Class will begin promptly at the posted times; once the video has started, participants are not able to enter the classroom and will need to reschedule. Students who are sick or not feeling well are not able to work on or with the manikins and should reschedule if any health issues apply.
If you have questions about CPR Training Classes, you may call the Junior League of Houston's CPR Information Line at 713.961.1670 during business hours or email cpr@jlh.org.
To register for a CPR class, please click here. Registration for classes opens 30 days before the class date. If classes are full, please be sure to check back on the CPR sign-up page on the Junior League of Houston's website to see if an individual has cancelled or to sign up for future CPR classes.