Open to the public, The Pantry offers wonderful bakery items and frozen casseroles prepared in its Tea Room Kitchen. In addition, care packages, catering orders and special orders* are also available for purchase. Please click here to view The Pantry menu. Stop by or call 713.622.5965 to check inventory or to place an order.
* All special orders require advance notice of at least 24 hours and are subject to approval by the Tea Room General Manager.
The Pantry is open Tuesday through Saturday from 10 a.m. until 2:30 p.m. In addition, The Pantry is open the fourth Monday of every month when Junior League general meetings are held (August, September, October, January, February, April and May) and each Monday in November, prior to Thanksgiving.
The Pantry will be closed the following dates in 2022 – 2023:
Saturday, July 2, 2022
Saturday, September 3, 2022
Wednesday, November 23 – Saturday, November 26, 2022
Monday, December 19, 2022 – Tuesday, January 3, 2023
Thursday, February 2 – Saturday, February 4, 2023
Friday, April 7 – Sunday, April 8, 2023
Saturday, May 27, 2023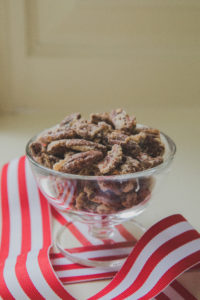 Gourmet Texas Pecans are now available in The Pantry! Pick up your sugared or spiced pecans today, in five-ounce or eight-ounce offerings. Perfect for a host gift or a treat for yourself!
Have The Pantry help you with your next party
Do you need catering for your at-home event or a picnic basket pickup for your virtual meeting? We can help you get ready for your next function with the Pantry! Call 713.622.5965 to get started planning today.
Gift Certificates to The Pantry
Are you looking for a great teacher or hostess gift, or an easy gift to have on-hand? Look no further than the Junior League! The Junior League offers gift certificates that can be used to purchase items from The Pantry, including frozen meals and catering packages. Tea Room patron members and League members may also use gift certificates to purchase special event tickets or dine in the Tea Room. Gift certificates are available in denominations of $10/$20.
For more information or to purchase a gift certificate, please contact The Pantry at 713.622.5965.