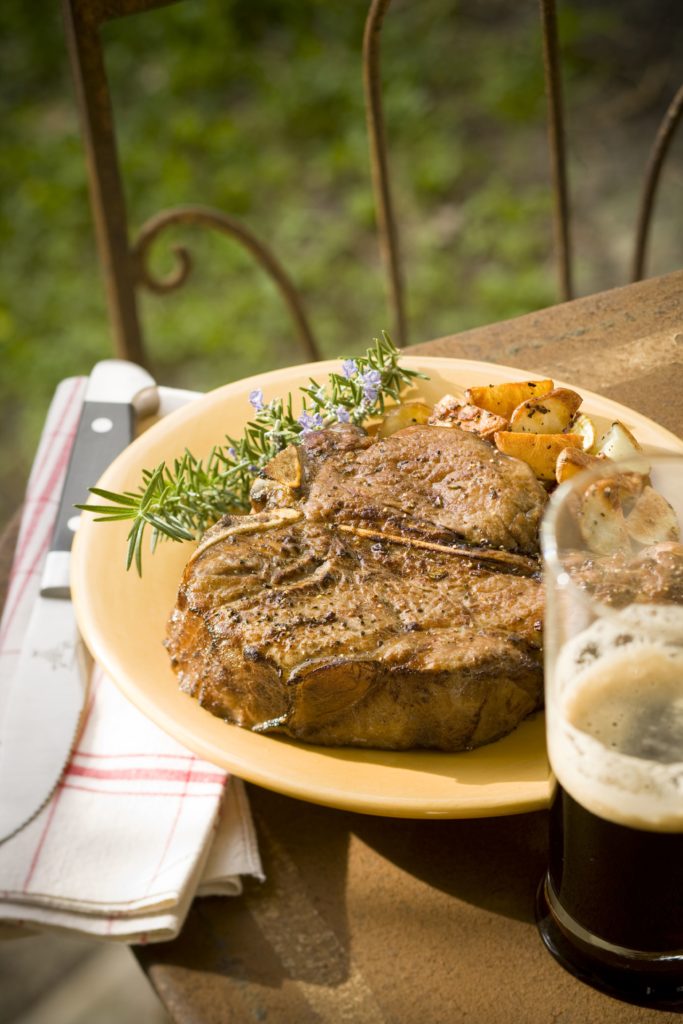 SPRING INTO STEAK The Balsamic Glazed Steaks from Peace Meals are a good centerpiece for an Easter meal or when hosting company anytime. (Photo: Photo courtesy of the Junior League of Houston)
With the arrival of spring comes the Easter holiday. Beyond all the egg hunts, bunnies and chocolate candy, Easter is a time for reflection and renewal, as well as celebration.
When putting together an Easter meal, consider traditional options such as chicken, fish or beef, along with simple sides to complement the main courses.
For a refreshing start, consider making Avocado Cucumber Soup with Cilantro from Peace Meals. You can make the chilled soup the day before and serve it in individual decorative cups garnished with a dollop of yogurt, cucumber slice and cilantro.
The Balsamic Glazed Steaks from Peace Meals are a hearty, filling centerpiece for your meal. The balsamic glaze is a buoyant and straightforward finish, but should it not strike your fancy, considering serving the steaks with Blue Cheese Walnut Butter.
For something a little lighter, try the Oven Roasted Bourbon Salmon from Peace Meals. With brown sugar, bourbon and soy sauce, you'll get a combination of sweet and savory. Alternatively, you can prepare Breast of Chicken Beau Monde from The Star of Texas. For a side, you can whip up some Almond Rice from The Junior League of Houston Cookbook. The rice has a smooth, buttery feel that complements chicken or fish.
Consider pairing the Green Vegetable Medley, also from The Junior League of Houston Cookbook, with your steaks. This recipe calls for frozen vegetables, but if you have fresh vegetables on hand, even better. The Pasta with Spring Vegetables in Saffron Cream Sauce from Peace Meals is a creamy springtime menu addition also calling for vegetables.
While the kids busy themselves with their chocolate goodies, adults will enjoy the juicy fruit flavors of Fresh Blueberry Pie or Fresh Strawberry Pie, both from The Star of Texas. Each pie is topped off with a dollop of cream. They can also be served with a scoop of your favorite vanilla ice cream.
Each of the recipes, in addition to being tasty, require less than one hour of prep and cooking time, which will allow you to spend more time with your guests. Happy Easter!
Source: April 1, 2020, The Buzz Magazines, Alicia Layfield