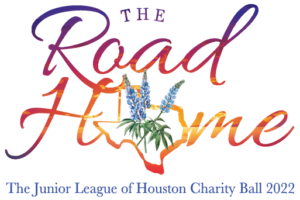 Friday, February 4 and Saturday, February 5, 2022
Please join the Junior League of Houston for the 74th Annual Charity Ball, The Road Home. This year, the Junior League's members, patrons and donors will return home to the League after spending the past year apart.
The League provides trained volunteers and funding to 33 community projects as well as additional outreach efforts including community assistance grants, innovative community collaborations and other impactful community events. Further, the League's extensive training and education program cultivates a lifetime of civic service, preparing members to serve as agents of change in the Houston community well beyond their active membership years.
You are directly supporting the Junior League's commitment to "Building A Better Community." For every dollar received from our generous donors, the Junior League triples its value by combining it with trained volunteers, a combination setting the League apart and enabling your gift to reach the furthest corners of our community. The Junior League looks forward to a Texas-sized celebration recognizing your commitment to further the League's accomplishments and contributions.
We are truly grateful for your support of the Junior League of Houston!
Underwriting Letter ·  Brochure   ·   Reply Card   ·   Auction Letter