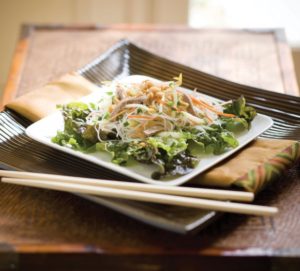 NEW YEAR, NEW RECIPES Try the Vietnamese Pork Tenderloin and Rice Noodle Salad this year. (Photo courtesy of the Junior League of Houston)
If you're like me, a fresh start is in order after the holiday season, with its hams and turkeys, gravies and jellies, potatoes, stuffings and casseroles.
To fight back against that food coma, you can't go wrong with the right salad. Try the Seared Yellowfin Tuna Salad with Wasabi Vinaigrette. You'll quickly forget it's low-carb with that kick of spice. For those craving a more international flare, I recommend the Vietnamese Pork Tenderloin and Rice Noodle Salad.
With both allergens and the flu season still in the air, make Vitamin C intake a priority. The Chicken in Orange Sauce gives you a tasty and natural alternative to desperately chugging Emergen-C. The recipe calls for fresh orange juice – this is important, since the fresh stuff has almost twice the amount of Vitamin C per serving compared to concentrate. All kinds of citrus fruits boost your immunity, so the lemon juice in the Herbed Baked Salmon makes that dish another great option as well.
When you're ready to rejoin the festivities, combine liquid spirits with your New Year plan. The Baked Red Snapper with Feta uses ouzo liqueur, a clear, sweet, anise-flavored liqueur from Greece, to complement its Mediterranean medley of tomatoes, capers, and onions. Or, you can pop some bottles to make Champagne Chicken, with a sauce that combines the bubbly with fresh thyme, rosemary, garlic, and lime juice.
For those with a sweet tooth, we've got your back on that too. The Low Fat Flan is delicious and swaps those heavier creams and whole eggs for skim milk and egg whites.
Enjoy flavorful eating to start your year off right.
Source: January 1, 2020, The Buzz Magazines, Emily Vechan