Healthy recipes for the new year
Cooking Buzz is produced in partnership with the Junior League of Houston, a women's charitable and education organization founded in 1925.
January has arrived, and so have the resolutions. It seems like most are related to health and fitness, the byproduct of holiday feasts and cookie platters.
According to studies, the vast majority fail, with most efforts abandoned by mid-January. For those who do stay the course, success often means making small changes.
When selecting an entrée, your healthiest choices are going to be lean protein, such as chicken breasts in Stop and Smell the Rosemary's Champagne Chicken and pork tenderloin in Peace Meals' Vietnamese Pork Tenderloin and Rice Noodle Salad.
You also don't have to cut out red meat, as there are several lean cuts such as flank steak. Use it in Peace Meals' Beef and Broccoli Stir-Fry recipe, which is loaded with nutrient-rich vegetables like bell peppers. Serve with cauliflower to add even more veggies.
An amazing recipe is your best friend when it comes to increasing vegetable intake. You will want seconds if you make Stop and Smell the Rosemary's Herb Garden Green Beans and Peace Meals' Sauteed Brussels Sprouts with Truffle Oil.
Circling back to the idea of small changes, you can modify your fats to make recipes healthier. For example, the Herb Garden Green Beans call for 4 tablespoons of butter. You can use 1-2 tablespoons and still deliver an excellent dish. Butter can also be replaced by a healthier cooking fat such as olive oil.
From Stop and Smell the Rosemary
1 cup champagne
12 sprigs fresh thyme, minced
3 Tablespoons fresh lime juice
4 cloves garlic, chopped
2 large sprigs fresh rosemary, minced
2 boneless, skinless chicken breast halves
½ teaspoon salt
¼ teaspoon freshly ground pepper
Fresh rosemary sprigs
Combine champagne, thyme, lime juice, garlic, and rosemary in a large bowl. Add chicken breasts. Season with salt and pepper. Cover bowl and refrigerate overnight.
Preheat oven to 350 degrees. Remove chicken from marinade and place in a small roasting pan. Reserve marinade. Roast chicken 20 to 30 minutes, basting occasionally with marinade. Place chicken on a platter and cover to keep warm. Pour pan juices into a saucepan. Add remaining marinade. Cook mixture over medium-high heat until reduced slightly, about 5 minutes. Spoon sauce over chicken and garnish with fresh rosemary sprigs. Serves 2.
From Stop and Smell the Rosemary
4 Tablespoons unsalted butter
1/3 cup minced onion
¼ cup minced celery
¼ cup fresh parsley
¼ cup fresh basil chiffonade
1 teaspoon chopped fresh rosemary
2 cloves garlic, minced
1 teaspoon salt
1 teaspoon freshly ground pepper
1 pound green beans, snapped and blanched
Melt butter in a large skillet. Add onion and celery. Sauté until soft. Add parsley, basil, rosemary, garlic, salt, and pepper. Cook, stirring constantly, 3 minutes. Gently stir in beans. Cook uncovered until beans are thoroughly heated. Serves 4 to 6.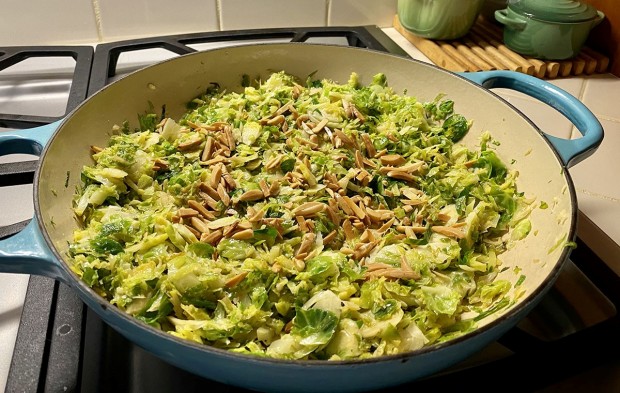 Sauteed Brussels Sprouts with Truffle Oil
From Peace Meals
1 pound fresh Brussels sprouts, stems trimmed
2 teaspoons pressed garlic (about 2 large cloves)
½ teaspoon coarse salt, plus additional
1 Tablespoon butter
¼ cup vermouth (or water)
Freshly ground pepper
2 teaspoons white truffle oil
¼ cup almond slivers, toasted
Fit a food processor with a slicing blade. With the motor running, drop the Brussels sprouts down the feed tube, using the hopper to push the sprouts through to ensure better slices. In a small bowl, mash the garlic and salt together. Heat a 12-inch skillet over medium heat until warm. Add the garlic paste and butter; cook until fragrant, about 30 seconds. Add the sliced sprouts to the skillet and toss gently until coated with the butter. Sauté for 1 minute until the sprouts are crisp-tender, but still bright green, about 1 to 2 more minutes. Remove from heat and season with salt and pepper. Drizzle with the truffle oil, add the almonds, and toss. Transfer to a serving dish and serve immediately. Serves 4.
Vietnamese Pork Tenderloin and Rice Noodle Salad
From Peace Meals
Vinaigrette:
2 cloves garlic, minced
½ teaspoon ground chili paste or Asian chili pepper sauce
3 Tablespoons sugar
½ cup hot water
3 Tablespoons bottled fish sauce
1½ Tablespoons fresh lime juice
2 Tablespoons rice wine vinegar
½ teaspoon coarse salt
Pork:
1 Tablespoon brown sugar
¼ teaspoon cayenne pepper
¼ teaspoon garlic powder
½ teaspoon coarse salt
1 pound pork tenderloin, trimmed
Salad:
8 ounces thin rice vermicelli
1 English cucumber, cut into matchsticks
2 carrots, peeled and cut into matchsticks
1 cup fresh bean sprouts
2 cups red leaf lettuce, torn
2 Tablespoons each chopped mint, cilantro and basil, for garnish (use Thai basil if available)
3 Tablespoons chopped peanuts, for garnish
Puree the garlic, chili paste, sugar and water in a small food processor. Transfer the mixture to a small saucepan. Add the fish sauce, lime juice, vinegar and salt, stirring over medium heat until the sugar dissolves, about 2 minutes. Let cool.
Combine the brown sugar, cayenne, garlic powder, salt and pepper in a small bowl and stir with a fork. On a large piece of foil, sprinkle the spice rub over the pork tenderloin, and cover tightly with the foil and seal; chill for at least 30 minutes or as long as overnight. Preheat the oven to 375 degrees Fahrenheit. Remove the foil and place the tenderloin on a lightly oiled roasting pan. Roast for 30 minutes or until a meat thermometer inserted in the center reads 145 degrees. When done, place the tenderloin on a cutting board and allow it to rest for about 15 minutes or until the internal temperature reaches 160 degrees. Cut into ½-inch slices and then cut into ¼-inch strips.
Bring a pot of water to a boil and add the vermicelli. Boil the noodles for about 3 minutes until soft or according to package directions. Drain and rinse under cold water and set aside to cool. If the noodles start to stick together as they cool, toss them in a bowl with a small amount of the vinaigrette. In a large bowl, toss together the cucumber, carrots, bean sprouts, noodles and desired amount of the vinaigrette. In a large serving bowl, layer the lettuce, noodle mixture and pork. Garnish with the chopped herbs and peanuts. Serve at room temperature. Serves 4 to 6.
From Peace Meals
1 flank steak, about 1 pound
½ cup oyster sauce
¼ cup chicken broth
2 Tablespoons sherry
2 Tablespoons brown sugar
2 Tablespoons sesame oil
2 Tablespoons cornstarch
Coarse salt and freshly ground pepper
3 Tablespoons vegetable oil, divided
1 head broccoli (about 1½ pounds), cut into bite-sized florets
1 large red bell pepper, seeded and coarsely chopped
6 cloves garlic, minced
3 green onions, thinly sliced
1 Tablespoon peeled and grated fresh ginger
Place flank steak in the freezer for 10 to 15 minutes. Meanwhile, whisk together the oyster sauce, broth, sherry, brown sugar, sesame oil and cornstarch in a bowl; set aside. Remove the steak from the freezer. Slice the meat along the grain into three long pieces; slice again thinly against the grain into bite-sized pieces. Season with salt and pepper.
Heat 1 tablespoon of the oil in a large skillet or wok over high heat. Stir-fry the beef until lightly browned, about 3 minutes. Transfer the meat and accumulated juices to a clean bowl. Heat 1 tablespoon of the oil in the same skillet and add the broccoli, bell pepper and 1⁄3 cup of water. Cover and cook over medium heat, stirring occasionally, until the broccoli is bright green, about 3 to 5 minutes.
Uncover and continue to cook until the liquid evaporates, about 2 minutes. Add the remaining tablespoon of oil, garlic, green onions and ginger. Cook until fragrant, about 1 minute. Add the reserved oyster sauce mixture and beef, and toss until the beef and vegetables are well coated with the sauce. Service over a bed of rice or cauliflower rice. Serves 4.
Source: December 24, 2020, The Buzz Magazines, Erin Faulker