Holiday Community SUPER Market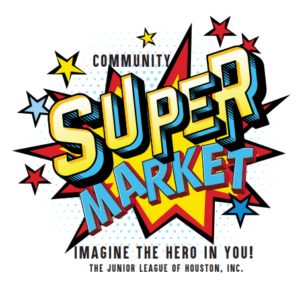 The Holiday Community "SUPER" Market was featured on CW 39 News!
On Saturday, December 19th, the Junior League hosted the 2nd Community "SUPER" Market. Santa and his Elf gave a warm welcome to more than 185 families from League partner community agencies including B.E.A.R., Child Advocates, DePelchin Children's Center, Mission of Yahweh, Nehemiah Center, Neighbors in Action, Operation Homefront and all the residents from the Star of Hope's Women & Family Development Center. In total, this "Holiday" Market enabled the League to provide food for more than 1,000 people and provided basic needs items to almost 450 children.
Each family was provided a warm, family-style breakfast to-go prepared by the Junior League kitchen. Close to 650 warm winter coats were given to the participants, adult coats were provided from Attack Poverty and each child received a new coat from The Junior League of Houston.
All 450 children that participated in the event received holiday craft kits and a stockings made by the League's VIEW volunteers; pajamas provided by Clothed by Faith and the Junior League; books graciously given from Books Between Kids, a new packaged toy from their individual wish list, fulfilled by a Junior League Toy Drive. Additionally, more than 1,000 diapers and 60 blankets made by The League's TCH Sewing volunteers were provided to children as well.  Thank you for all who donated to make this a magical morning for so many children.
Every family was sent home with a family-sized holiday dinner, prepared by the Junior League of Houston kitchen, made with food donated by Ben E. Keith, a long-standing food supplier of the League, as well as freshly-ground coffee from locally-owned and operated Rugid Grind. Snow Sisters Anna and Elsa were there to spread holiday cheer as families departed for the day!
Plans are underway for the final SUPER Market event of the 2020 – 2021 League year in Spring 2021, and will again focus primarily on basic needs for families referred from Agencies served through the Junior League.