This year, the League will honor members each month with the Member Spotlight Award for going above and beyond in service to our community and organization. This award reflects the fact that the League is made up of incredible women doing incredible things!
August 2023
Ariana Anjier 
Membership Engagement Coordinator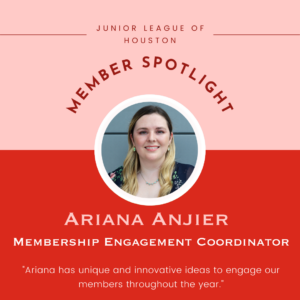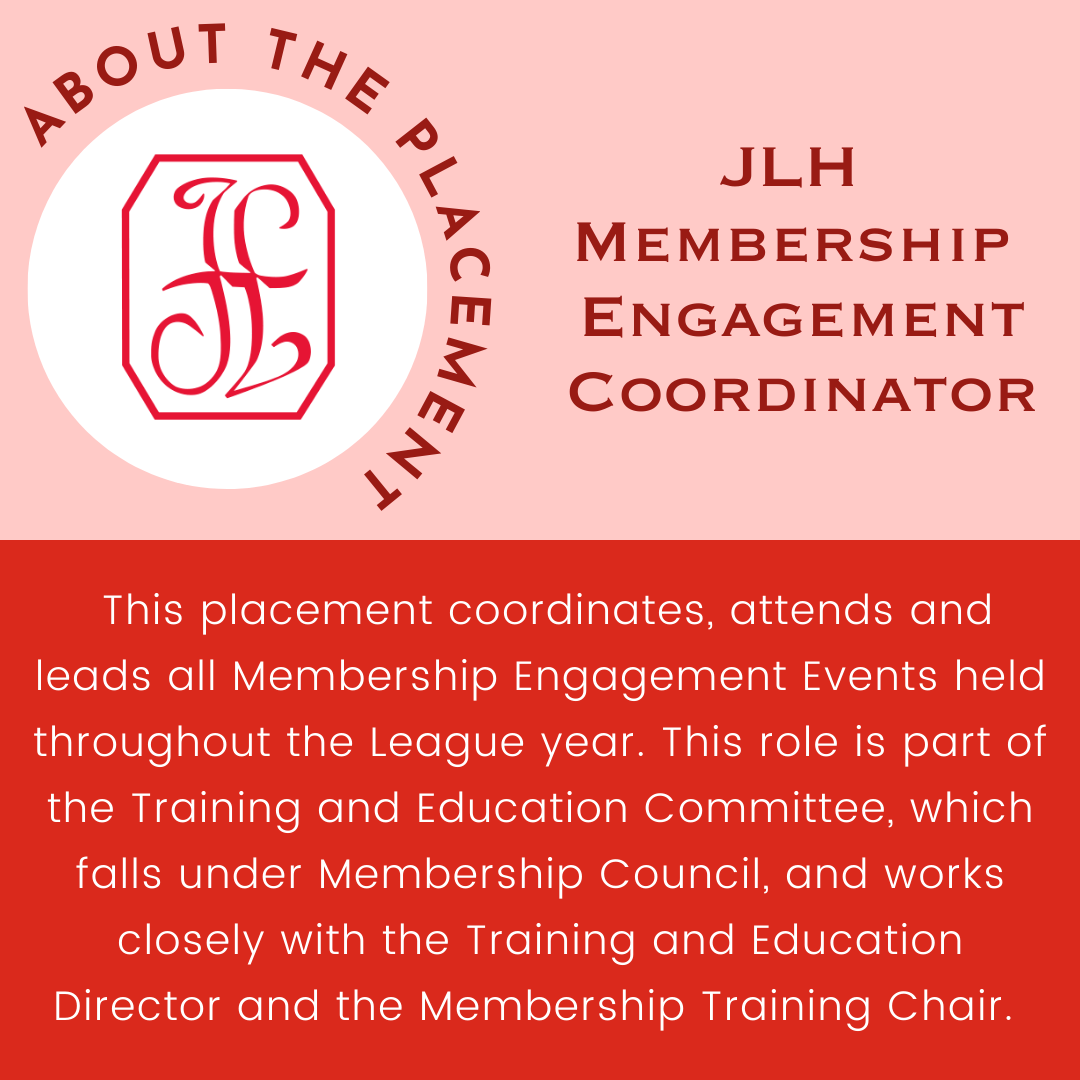 Joining the Junior League of Houston in 2021 – 2022, Ariana currently serves as the Membership Engagement Coordinator this year. She did an exceptional job planning the June Membership Engagement Event by reaching out to countless venues to ensure the event took place at the perfect location while being affordable to League members. Additionally, Ariana has unique and innovative ideas to engage our members throughout the year. When asked what she loves about her role as Membership Engagement Coordinator, Ariana shared "I love working with the Training and Education team to come up with fun ideas to encourage membership engagement and explore Houston. I also enjoy meeting fellow League members and making new friends." The Training and Education Committee is thankful to have such a talented and enthusiastic member like Ariana!
Neus Bota
Camp Hope Chair – Allie in Hope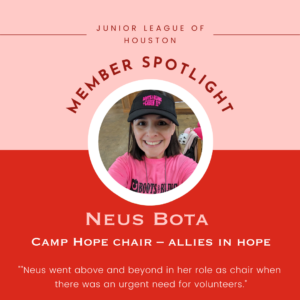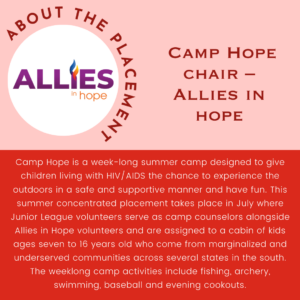 A Junior League of Houston member for six years, Neus currently serves as the Camp Hope Chair – Allies in Hope this year. She went above and beyond in her role as chair when there was an urgent need for volunteers. When asked what she loves about her role, Neus shared "Camp Hope is all about working towards kiddos having the best week of the year! To be able to participate in this experience is magical! Allies in Hope is an awesome organization and I LOVE working with them. After four years, camp was finally back in person this year and it was an amazing week filled with water games, canoeing, a talent show, formal dance, s'mores and much, much more! I would recommend this volunteering experience to everyone." Thank you Neus for stepping up and for making memories with the campers at Camp Hope!
September 2023
Brianna TenBrink
Diversity, Equity and Inclusion Training Manager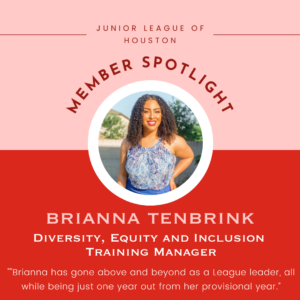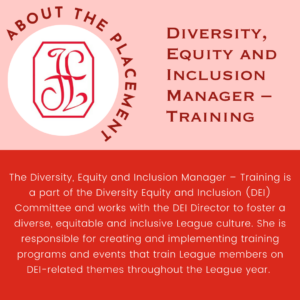 Brianna joined the Junior League of Houston last year in 2022 and has already above and beyond in her League leadership. Brianna is currently serving as this year's Diversity, Equity and Inclusion Training Manager. She recently gave an amazing training to the current provisional members, leaving an impactful memory on their provisional journey. Brianna shared, "I love that my placement as the Diversity, Equity and Inclusion Manager – Training centers on ensuring that each member of the League feels seen, valued and heard. I work across two fabulous teams, DEI and Training and Education, to educate and execute learning moments for our membership to strengthen us internally and open our doors to a more diverse applicant pool externally. I love being in the League because I value experiences that allow me to serve my community, challenge myself to grow personally and professionally, as well as the opportunity to connect with like minds who are passionate about making a difference." Thank you, Brianna, for your leadership and guidance in training our League members.
Brittany Douglas 
Tea Room Support – Server/Cashier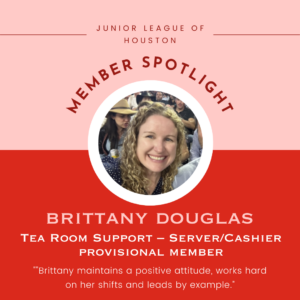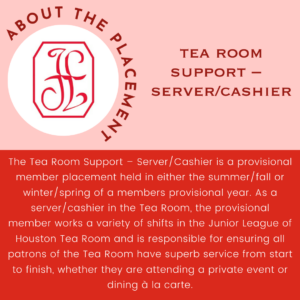 Brittany is a provisional member currently serving in the Tea Room Support role as a Server/Cashier. Brittany maintains a positive attitude, works hard on her shifts and leads by example. On a busy Saturday in the Tea Room, her exceptional service was recognized by a fellow active League member who reached out singing her praises, thinking Brittany had to be an experienced League member, not a provisional who is new to the Tea Room. Brittany's enthusiasm for the role, knowledge of the placement and skill in completing her duties are what made her stand apart. Brittany shared, "I love all the wonderful women I have met in the League! They are dynamic, kind, fun and lovely. These are women I would more than likely not have had the opportunity to meet, as we work in different industries and live all over Houston! I am so thankful for each of them." Thank you, Brittany, for being an exemplary provisional volunteer in the Tea Room this year!
Rayna Crier 
Internal Social Media Manager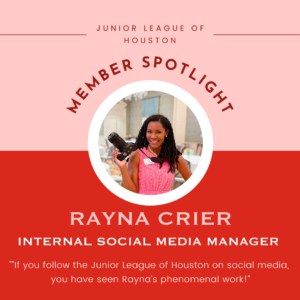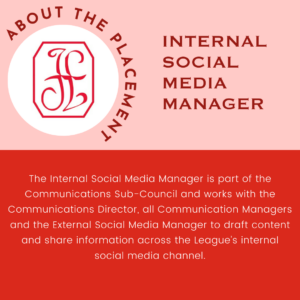 Rayna originally joined the Junior League of Montgomery, but she transferred to the Junior League of Houston in 2021. If you follow JLH on social media, you have seen Rayna's phenomenal work as Internal Social Media Manager. Social media is a fast-moving, ever-changing platform, and the Internal Social Media Manager placement kicks into high gear even before the start of the League year. Rayna has created fun and innovative posts to keep our members informed and excited to attend events. Rayna shared, "I really enjoy the creative freedom of being the Internal Social Media Manager. In my full-time job as a career advisor at Rice University, I spend most of my time having very serious conversations. But in the League, I'm able to tap into my artistic side! The League provides so many opportunities to learn and grow. This is a safe space to explore new skills and make new friends while serving the Houston community. At the end of every League year, I've added things to my toolbox that I'm able to use in every other area of my life!" Thank you, Rayna, your dedication and creative ideas are truly appreciated.