Prospective Member Open House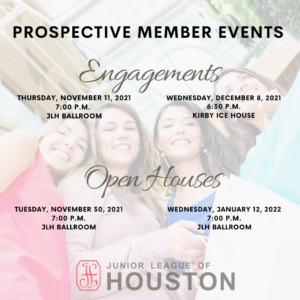 The Junior League of Houston will host two Open Houses. Prospective members are required to attend one Open House. The Prospective Member Open Houses will be held on Tuesday, November 30, 2021, and Thursday, January 13, 2022, at 7 p.m. in the Junior League of Houston Ballroom. Due to COVID-19, prospective members will have the opportunity to attend virtually and do not need to attend an Open House with their sponsor.
If you are attending in person, you do not need to register in advance
Register here to attend virtually
For more information about becoming a member, please visit the website.
If you have questions, please contact Katie Doyle, Admissions Chairman, at 713.871.6666 or admissions@jlh.org, or Sara-Nell Van Lant, Membership Vice President, at membership_vp@jlh.org.