BY BECKY PIVEC, CONTRIBUTING WRITER | JUNE 1, 2019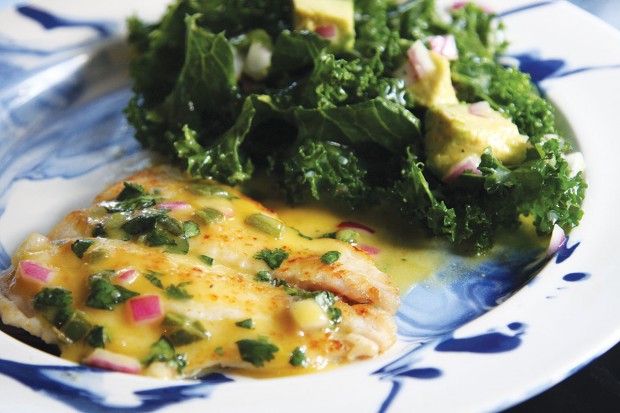 The title of this article is a little bit of a misnomer. As a mom to two high schoolers, I know that all of us being able to eat at the table together is a challenge. Between after-school activities, time with friends, sports and work, evening hours are precious. As school winds down and summer swim ramps up, our dinner focus is on somewhat healthy meals that are also filling. Active teenagers are hungry!
For athletic kids, lean protein is always a good idea. The Pan Seared Tilapia with Honey-Jalapeño Vinaigrette from Peace Meals is a straightforward recipe that tastes complex and delicious. We often use snapper in lieu of tilapia, but catfish, cod or any flaky white fish would work as well. The spice is easy to alter depending on your crowd's tolerance for heat.
The fish goes well with a simple kale salad, but if you're not excited about a leafy green vegetable, try Mashed Potatoes with Rosemary Butter from Stop and Smell the Rosemary. The recipe calls for using your electric mixer, but this is really the perfect time to enlist your kids to mash and mix the potatoes for you. One less thing to clean, and my kids are usually up for helping when asked (depending on the request, of course).
Teens are notorious for changing plans on the fly. If I need to throw something together quickly that checks the boxes of lean protein, starch and vegetable, I love to make the Penne with Sweet Italian Turkey Sausage and Arugula from Peace Meals. This meal can be made in one pan, which makes it even more appealing for a tired parent.
For dessert, all nutrition rules go out the window. The Toffee Chocolate Pecan Pie from Stop and Smell the Rosemary has been a staple for special events in our house for years. Add a little ice cream to beat the summer heat.
While eating a home-cooked meal is our goal, life does not always allow for it. For meals in a pinch, we rely on Dream Dinners or frozen items from The Pantry at the Junior League.
Source: June 1, 2019, The Buzz Magazines, Becky Pivec