BY MELISSA SCHUCK, CONTRIBUTING WRITER | AUGUST 1, 2019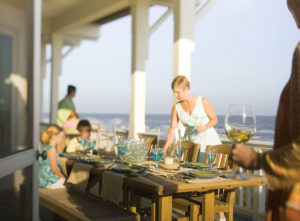 As a working mom, the summer schedule is a patchwork of summer school, camps, babysitters and random days off for mom or dad. Our family usually sneaks in a few weekends away on the Texas coast and plans a more adventurous family vacation for mid-August, once summer camps wind down but before school begins. My husband and I both enjoy cooking, and our kids enjoy eating, so we try to cook on vacation whenever we can.
For quick beach and lake weekends, I do most grocery shopping before we go. Here's a tip: order your groceries online while the recipes are in front of you. Set the curbside pickup time to coincide with your getaway time (don't forget to add a couple of bags of ice!). Then run by the store on the way out of town and throw your perishables in your cooler with the ice. I prefer to run errands before the trip to make the most of time with family and friends. (Or save an errand for vacation if you're looking for some peace and quiet! We go to Galveston one weekend every summer with college friends, and one of the guys always volunteers to pick up fresh fish and shrimp from the fish market on Saturday for that reason.)
We try to meal plan efficiently: fish tacos on Friday night, with tortillas leftover to make breakfast tacos on Saturday morning or fried shrimp po-boys for lunch, with extra French bread for garlic bread as a dinner side. The Broiled Halibut with Meyer Lemon Sauce from Peace Meals is an easy dinner. Broiling requires less oven time, perfect for keeping your kitchen from getting too hot. If you want to skip the lemon sauce, you can serve fish tacos with Corn and Pepper Relish from Stop and Smell the Rosemary. I love the versatility of the relish, as it's good with tacos or tortilla chips, and it's an easy thing make at home before the trip since it keeps well.
Another Friday night dinner staple at the beach is steamed crab. Use any remaining crab to make the Mother's Bayhouse Crab Salad from the Star of Texas Cookbookfor lunch for the rest of the weekend; you can pair with crackers and fresh fruit for a simple lunch. Like the crab salad, Barley Corn Salad from Stop and Smell the Rosemary uses any corn leftovers from dinner and is a delicious lunch or dinner side for the next day and a hearty meatless alternative.
To enjoy your vacation, be sure to cook what you love, and leave the rest for convenience. The sausage breakfast tart, cinnamon rolls and orange rolls from The Pantry at the Junior League make Sunday morning breakfast a breeze. Ice cream with a treat from a local bakery are dessert everyone will enjoy. These are just a few of my tips for taking your home cooking on the road!
Broiled Halibut with Meyer Lemon Sauce
From Peace Meals
Fish: Extra virgin olive oil
6 halibut fillets (about 6 ounces each), without skin, rinsed and patted dry
Coarse salt and freshly ground pepper
Meyer Lemon Sauce: 1 cup Greek or plain yogurt
1 teaspoon finely grated Meyer lemon zest
1 teaspoon fresh Meyer lemon juice
1 teaspoon finely grated lime zest
1 teaspoon fresh lime juice
¼ teaspoon coarse salt
½ teaspoon honey
Preheat the oven to broil and set the oven rack at the highest position. Lightly coat the rack of a broiler pan with olive oil. Season the halibut with salt and pepper. Broil for 10 to 14 minutes, turning halfway through, or until the fish flakes easily when tested with a fork. While the fish is cooking, whisk together the sauce ingredients plus 2 tablespoons of water in a small bowl. Serve the halibut with the Meyer Lemon Sauce.
From Stop and Smell the Rosemary
2 cups apple cider vinegar
1⅓ cups sugar
1 Tablespoon chopped fresh basil
¼ teaspoon freshly ground pepper
1 cup diced green bell pepper
1 cup diced red bell pepper
Kernels of 4 ears cooked corn (2 cups)
Combine vinegar, sugar, basil, and pepper in a medium saucepan. Bring to a boil. Reduce heat and simmer 10 minutes. Add bell peppers and simmer 3 minutes. Stir in corn. Cool to room temperature. Spoon into sterilized jars. Cover and refrigerate. Yields 2 pints.
Mother's Bayhouse Crab Salad (Red Bluff)
From The Star of Texas Cookbook
Boiled cold crab meat from 1 dozen large crabs or 1 to 2 pounds fresh lump crab meat
1 cup (or more) mayonnaise
1 Tablespoon capers
1 teaspoon lemon juice
1 cup coarsely chopped celery
4 water chestnuts, coarsely chopped
1 small onion, grated or finely chopped
Salt and pepper to taste
Mix all ingredients lightly and serve on lettuce cups. This is beautiful surrounded by hard-cooked-egg slices, tomato slices, green-pepper slices, pickles, and olives. Serves 6.
From The Star of Texas Cookbook
2 large eggs, beaten
½ teaspoon salt
¼ teaspoon cayenne
1 Tablespoon cornstarch
2 pounds fresh shrimp, shelled and deveined
Cracker crumbs
Flour
Combine eggs, salt, cayenne, and cornstarch, and mix well. Fold in shrimp and let stand for 1 hour or more. Roll shrimp individually in mixture equal parts cracker crumbs and flour. Fry in deep fat until golden brown. Eat immediately. Serves 6.
From Stop and Smell the Rosemary
Salad:
1 cup barley
Kernels of 4 to 5 ears cooked corn (may substitute a 10-ounce package of frozen corn, cooked and drained)
½ cup thinly sliced green onions
1 large tomato, peeled, seeded, and minced
1 to 2 fresh jalapeños, seeded and minced
¼ cup minced fresh cilantro
Dressing:
2 cloves garlic, peeled and boiled 10 minutes
3 Tablespoons white wine vinegar
½ teaspoon ground cumin
⅓ cup extra virgin olive oil
Salt
Freshly ground pepper
Sprinkle barley into large pot of boiling salted water. Cook, skimming the foam, for 30 minutes, or until just tender. Barley should be firm. Drain into a colander and rinse with cold water. Let cool. Transfer barley to a large serving bowl. Add corn, green onions, tomato, jalapeños, and cilantro. Toss to combine.
Purée garlic, vinegar and cumin in a food processor. With machine running, slowly add oil in a thin stream until combined. Season with salt and pepper. Pour dressing over salad and toss. Serves 6.
Source: August 1, 2019, The Buzz Magazines, Melissa Schuck