BY AMANDA BOFFONE, CONTRIBUTING WRITER | JULY 1, 2019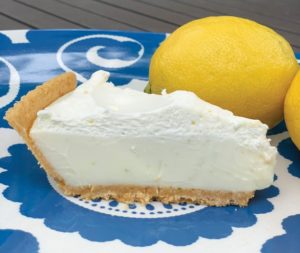 For my family, summer always seems to mean last-minute pool parties and backyard barbecues. The lack of schedule during the summer lends itself to these impromptu dinner events as afternoon stretches into evening, and my kids (and my husband and me) find ourselves not wanting fun with friends and family to end.
I don't fancy myself to be a cook, and life with two active young children makes my kitchen time limited, so I am always drawn to recipes that are easy to execute and great for a crowd. The Southwestern Cheese Dip from Stop and Smell the Rosemary is similar to pimento cheese but with a few additional ingredients that make it stand out on the appetizer table. To cut down on time, I usually swap out an orange bell pepper for the green bell pepper, since the grocery store so kindly now sells bell pepper trios. The recipe calls for topping with pico de gallo, which is delicious but adds prep time; I often skip the pico de gallo and just drizzle raspberry-chipotle vinaigrette over the top for a sweet and spicy combination. You can serve the dip with sturdy crackers like Wheat Thins, chips or bell pepper wedges.
If I need a quick entrée, the Savory Shrimp with Tomatoes and Avocados from Peace Meals is so simple and takes only 10 minutes to prep and cook. This is a straightforward entrée that goes well with any salad or side, which makes it perfect for a potluck dinner. I am also happy for any meal that doesn't use my oven when it is so hot out.
For dessert, the Sour Cream Lemon Pie from The Star of Texas Cookbook is a lighter dessert perfect for steamy Houston nights. The sour cream cuts the lemon and makes for a delicious creamy custard, so this dessert appeals to even the pickiest eaters. This pie uses mostly pantry staples, so you can just pick up lemons and sour cream when you are at the grocery store. I keep premade pie crusts in the freezer for emergencies like these. As kids like to say, easy peasy lemon squeezy.
Southwestern Cheese Dip
From Stop and Smell the Rosemary
8 ounces cheddar cheese, shredded (2 cups)
4 ounces Swiss cheese, shredded (1 cup)
4 ounces Monterey Jack cheese, shredded (1 cup)
2 Tablespoons diced green bell pepper
2 Tablespoons diced yellow bell pepper
2 Tablespoons diced red bell pepper
2 Tablespoons chopped green onions
1½ teaspoons minced capers
¾ teaspoon minced garlic
¾ teaspoon Worcestershire sauce
1½ teaspoons chopped fresh dill
3 Tablespoons chopped fresh cilantro
Dash Tabasco sauce
¾ teaspoon Cajun spices
2 to 3 Tablespoons Dijon mustard
¼ to ½ cup mayonnaise
Combine cheeses, bell peppers, green onions, capers, garlic, Worcestershire, dill, cilantro, Tabasco, Cajun spices, mustard and mayonnaise in a large bowl. Stir to blend. Line a 1-quart bowl with plastic wrap, leaving a 4-inch overhang. Press cheese mixture into bowl and fold plastic overhang over top. Cover with another piece of wrap and refrigerate.
When ready to serve, unfold plastic wrap and invert onto a serving plate. Serve chilled with tortilla chips or assorted crackers. Garnish with pico de gallo.
Pico de Gallo
From Stop and Smell the Rosemary
1 cup chopped tomatoes
½ cup chopped onion
¼ cup chopped fresh cilantro
½ fresh jalapeño, seeded and minced
1 Tablespoon fresh lemon juice
1 Tablespoon olive oil
Combine tomatoes, onion, cilantro, jalapeño, lemon juice and olive oil in a small bowl. (Can be prepared 4 hours ahead. Cover and refrigerate.)
Savory Shrimp with Tomatoes and Avocados
From Peace Meals
2 Tablespoons butter
4 Tablespoons olive oil
5 cloves garlic, minced
1½ pounds shrimp, peeled and deveined
¼ cup white wine
1 cup cherry tomatoes, halved
1 Tablespoon chopped fresh basil
1 Tablespoon chopped fresh oregano
1 Tablespoon chopped fresh Italian flat leaf parsley
Coarse salt and freshly ground pepper
1 avocado, pitted, peeled and diced
1 cup rice, cooked according to package directions
Melt the butter in a sauté pan over medium heat; add the olive oil. Sauté the garlic for 1 minute and add the shrimp. Sauté the shrimp until pink. Add the wine, tomatoes and herbs, and season with salt and pepper. Remove from heat and gently stir in the avocados. Serve over the rice.
Sour Cream Lemon Pie
From The Star of Texas Cookbook
1½ cups sugar, divided
¼ cup lemon juice
Finely grated rind of 1 lemon
3 Tablespoons cornstarch
1 cup milk
3 eggs, separated
1 cup sour cream
1 baked cooled pie crust
Preheat oven to 350 degrees F. Combine 1 cup of the sugar, the lemon juice, grated rind, cornstarch, milk, and egg yolks. Cook over medium heat, stirring constantly, until thick. Let mixture cool completely. When cold, fold in sour cream and pour into cool pie shell. Beat egg whites with remaining ½ cup sugar until they form stiff peaks. Spread over filling and bake for 10 minutes or until top browns.
Nine Day Slaw
From The Star of Texas Cookbook
1 medium head cabbage, coarsely shredded (do not use processor or grater)
4 stalks celery, diced
1 onion, diced
1 green bell pepper, chopped
1 jar (4 ounces) chopped pimiento, drained
1 cup sugar, divided
1 cup oil
1 cup vinegar
2 Tablespoons salt
1 teaspoon dry mustard
1 teaspoon celery seed
In a large bowl, mix cabbage, celery, onion, bell pepper, pimiento and 1 cup (minus 2 tablespoons) of the sugar. Combine oil, vinegar, salt, remaining sugar, mustard, and celery seed in saucepan and bring to a boil, stirring constantly. Pour hot mixture over cabbage, and mix. Cool. Cover and chill for 24 hours. This gets better every day and is still good after nine days, if it lasts that long. Serves 10 to 12.
Tomato and Asparagus Salad with Champagne Vinaigrette
From Peace Meals
Champagne Vinaigrette: 1 clove garlic, peeled
½ cup Champagne vinegar
¼ teaspoon freshly ground pepper
Coarse salt
1 teaspoon Dijon mustard
Dash of sugar
1 cup extra virgin olive oil
Salad: 1 bunch asparagus, ends trimmed and cut on the diagonal into 1-inch pieces
1 pint cherry or grape tomatoes, halved
4 ounces crumbled herb feta cheese
Coarse salt and freshly ground pepper
Crush the garlic clove with the side of a knife blade. Transfer the clove, leaving it in one piece, to a mixing bowl. Add the vinegar, pepper and a dash of salt; allow to sit for 30 minutes. Remove and discard the garlic. Whisk in the mustard and sugar; slowly add the olive oil, whisking constantly to emulsify.
Bring water to a boil in a medium saucepan. Blanch the asparagus for 1 to 2 minutes; drain and rinse under cold water. Combine the asparagus and tomatoes in a medium bowl. Add the cheese and toss with desired amount of the vinaigrette; season with salt and pepper. Cover and refrigerate for up to 4 hours. Toss again before serving and adjust the seasonings as needed.
Serves 6.
Avocado Tomatillo Salsa
From Peace Meals
5 medium tomatillos, husked and rinsed
4 medium avocados, pitted, peeled, and coarsely chopped (about 4 cups)
1 to 2 jalapeños, seeded and minced
2 Tablespoons fresh lime juice
½ teaspoon minced garlic
½ cup chopped fresh cilantro
¾ teaspoon coarse salt
Preheat the oven to 375 degrees. Place the tomatillos on a foil-lined baking sheet and roast in the oven for 25 minutes, turning once halfway through. Remove from the oven and let cool slightly. Coarsely chop the roasted tomatillos and combine with the avocados, jalapenos, lime juice, garlic, cilantro and salt. Serve warm or chilled with tortilla chips.
Makes about 4 cups.
Cilantro Lime Shrimp
From Peace Meals
½ cup olive oil
3 cloves garlic, pressed
1 teaspoon dried thyme
¼ cup chopped fresh cilantro
½ jalapeno, seeded and minced
1 teaspoon paprika
1 teaspoon coarse salt
1 teaspoon brown sugar
1 teaspoon ground cumin
1 teaspoon Worcestershire sauce
½ teaspoon cayenne pepper
½ teaspoon crushed red pepper
Juice of 2 limes
1½ to 2 pounds large shrimp, peeled and deveined
Whisk together all the ingredients except the shrimp in a medium bowl. Add the shrimp to the mixture and marinate in the refrigerator for 30 minutes to 1 hour. Place the shrimp and marinade in a skillet, and cook over medium-high heat until the shrimp turn pink, about 5 minutes.
Serves 4 to 5.
Lemon Milk Sherbet
From Houston Junior League Cookbook
6 lemons
1 cup boiling water
3 cups sugar
2 quarts milk or cream
Squeeze lemons. Pour boiling water over rinds. Add lemon juice and sugar to lemon rind mixture; let stand until syrupy. Strain syrup and chill. Stir in milk or cream (depending on richness desired). Pour into container of ice cream freezer; cover tightly. Pack with ice and ice cream salt. Freeze until firm.
Makes about 3½ quarts.
Source: July 1, 2019, The Buzz Magazines, Amanda Boffone