BY KATIE DOYLE, CONTRIBUTING WRITER | NOVEMBER 1, 2019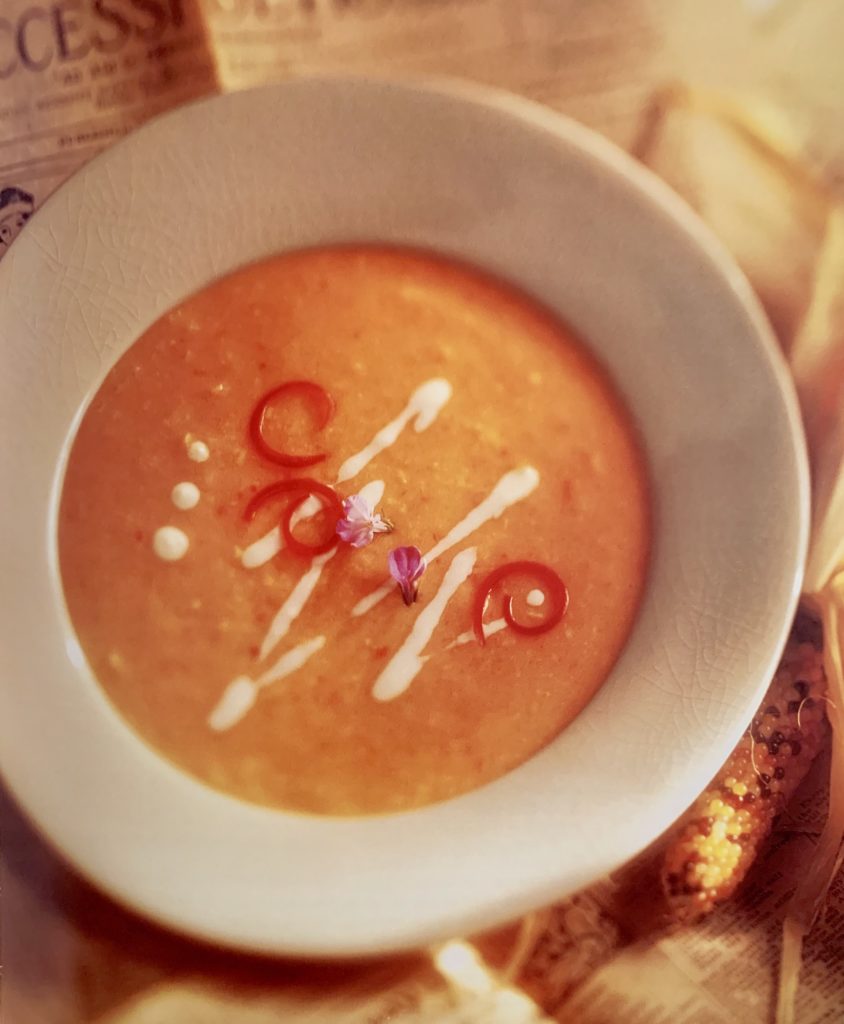 FALL FLAVORS This Corn, Red Pepper and Leek Soup from Stop and Smell the Rosemary sets the stage for Thanksgiving's main courses. (Photo courtesy of the Junior League of Houston)
Cooking Buzz is produced in partnership with the Junior League of Houston, a women's charitable and education organization founded in 1925.
Years ago, my aunt went rogue. She brought caramelized brussels sprouts to Thanksgiving. Yes, you read correctly. Brussels sprouts. Not corn pudding, mashed potatoes or stuffing. Brussels sprouts. Once they were unveiled, there were a myriad of reactions: dramatic eye rolls from the matriarch, questions that included, "Is that a new spin on green bean casserole?" and pinched noses from the little people. My aunt was mortified, and the dish was not touched.
I didn't want to admit it at the time, but I like brussels sprouts.
It's been a few years, and our palates and plates are ready to be challenged. Our theme for this year: "Fall Flavors Take Center Stage." We have created a menu that explores all the wonderful tastes of autumn while embracing new dishes for our dinner.
Our meal will start with the Corn, Red Pepper and Leek Soup from Stop and Smell the Rosemary, blended to perfection and served with a dash of cayenne pepper and dollop of crème fraîche. This first course will set the stage for the headliners of the show: Garlic Rosemary Cornish Game Hens and Herb Roasted Chicken, also from Stop and Smell the Rosemary. Far from dry, this roasted duet will surely please all guests at the dinner table with their savory, rich flavors.
Enter the chorus. We know who the stars are at dinner, but everyone is really there for the sides. The Rice Pilaf from The Star of Texas Cookbook is always a crowd pleaser and will accompany the other cast members perfectly. This specific recipe utilizes aromatic saffron and parmesan cheese. Chèvre Zucchini Gratin from Stop and Smell the Rosemary will dazzle the mac and cheese enthusiasts. Yes! It is possible to get that cheesy goodness and vegetables all in one dish! And then a surprise appearance from, you guessed it, brussels sprouts. In honor of my aunt, the trail blazer, we are going to have Brussels Sprouts with Prosciutto from Peace Meals. The crispy prosciutto and creamy sauce will convert any green bean devotee. We can't wait to see my aunt's reaction when this dish is revealed!
Every performance needs an encore, and ours will come in the form of sweet treats. Around the fire pit, we are going to sip on the White Hot Chocolate from Peace Meals and indulge in Praline Pumpkin Pie from Stop and Smell the Rosemary. We just couldn't say no to pumpkin. We do live in a pumpkin spice world, after all.
As you are planning your Thanksgiving event this year, explore a few new options to keep the audience guessing.
Corn, Red Pepper and Leek Soup
From Stop and Smell the Rosemary
2 Tablespoons unsalted butter
3 Tablespoons vegetable oil
2 medium leeks, white part only, coarsely chopped
1 large red bell pepper, seeded and coarsely chopped
Kernels of 5 ears corn (reserving ¼ cup)
6 cups chicken stock
½ cup heavy whipping cream
½ teaspoon salt
1⁄8 teaspoon white pepper
Pinch of cayenne pepper
2 Tablespoons minced fresh parsley
Red bell pepper, chopped
Crème fraîche
Heat butter and oil in a large saucepan. Add leeks and sauté 5 minutes, stirring occasionally. Add bell pepper and sauté until slightly soft, about 5 minutes. Add corn and sauté 3 minutes. Add stock and bring to a boil. Reduce heat and simmer uncovered 30 minutes. Transfer soup in batches to a blender or food processor. Process until smooth. Return to saucepan under low heat. Stir in cream, salt, pepper and cayenne. Adjust seasonings.
Place ¼ cup corn in a strainer and submerge in boiling water 2 minutes. Drain. Ladle soup into individual bowls and top with corn, parsley, bell pepper and a dollop of crème fraîche. Serves 6 to 8.
Garlic Rosemary Cornish Game Hens
From Stop and Smell the Rosemary
6 fresh Cornish game hens
2 Tablespoons minced garlic
2 Tablespoons chopped fresh rosemary
½ teaspoon freshly ground pepper
¼ teaspoon crushed red pepper
½ teaspoon salt
Preheat oven to 450 degrees. Trim hens of any visible fat. Rinse and pat dry. Combine garlic, rosemary, black pepper, red pepper and salt. Rub mixture over and under skin of each hen. Rub any excess seasonings into cavities. Close each cavity with a 6-inch bamboo skewer or cooking twine. Place hens in single layer on a rack in a large roasting pan. Roast 15 minutes. Lower temperature to 350 degrees. Roast 35 minutes longer, or until juices run clear when inner thigh is pierced. Serves 6.
Herb Roasted Chicken
From Stop and Smell the Rosemary
1 large whole chicken (4 pounds)
1 clove garlic, minced
1 teaspoon chopped fresh rosemary
1 teaspoon chopped fresh thyme
1 teaspoon chopped fresh oregano or marjoram
¼ teaspoon freshly ground pepper
½ teaspoon salt
1 Tablespoon olive oil
Preheat oven to 375 degrees. Rinse chicken inside and out with cold water. Remove pockets of fat just inside chest cavity. Pat dry.
Blend garlic, rosemary, thyme, oregano, pepper, salt and olive oil to make an herb paste. Rub herb paste over chicken and under skin. Roast, breast side up, 20 minutes. Turn and roast another 20 minutes. Turn again and roast another 35 minutes. Remove chicken from oven. Cover loosely with aluminum foil and let rest 15 minutes prior to serving. Serve chicken au jus with crusty bread. Serves 4.
Rice Pilaf
From The Star of Texas Cookbook
3 Tablespoons butter, divided
1 medium onion, chopped
1 cup uncovered rice
1 teaspoon saffron pistils
1 cup chicken broth
½ cup dry white wine
½ teaspoon white pepper
Salt to taste
4 Tablespoons grated Parmesan cheese
Toasted almonds
Melt 2 tablespoons of the butter in a heavy pot and add onions. Cook and stir over a low heat for 5 minutes. Do not allow onion to brown. Add rice and stir to coat with butter. Add saffron, broth, wine, pepper and salt. Bring to boil, stirring to avoid scorching. Reduce heat to low, cover, and cook slowly for about 25 minutes. Five minutes before serving, stir in cheese and remaining tablespoon of butter. Pack into well-buttered mold(s). Unmold onto a serving platter or individual plates. Sprinkle with toasted almonds. Serves 4 to 5.
Chèvre Zucchini Gratin
From Stop and Smell the Rosemary
2 pounds zucchini, cut diagonally into ¼ inch slices
3 Tablespoons unsalted butter
1 large onion, halved and thinly sliced
Salt
Freshly ground pepper
8 ounces chèvre, at room temperature
½ cup heavy whipping cream
1 ounce Parmesan cheese, freshly grated (¼ cup)
¼ cup dry bread crumbs
Preheat oven to 350 degrees. Grease a 9- by 13-inch baking dish. Boil zucchini in salted water under tender, but still crisp, about 2 minutes. Drain and pat dry.
Melt butter in a skillet. Add onion and sauté until translucent. Arrange one-third of zucchini in prepared dish. Season with salt and pepper. Spread half of onion over zucchini. Repeat layers, seasoning with salt and pepper, and end with zucchini on top.
Crumble chèvre into top of a double boiler. Stir in cream. Cook until smooth and thick, 3 to 4 minutes. Thin with an additional 2 to 4 tablespoons cream if too thick. Pour over zucchini layers. Combine Parmesan and bread crumbs. Sprinkle over gratin. Bake 35 to 40 minutes. Serves 6.
Brussels Sprouts with Prosciutto
From Peace Meals
2 ounces prosciutto, sliced into thin strips
1 pound fresh Brussels sprouts, stems trimmed and halved
2 Tablespoons butter
¼ cup minced shallots
½ cup heavy whipping cream
Coarse salt and freshly ground pepper
Bring a large pot of water to boil. In a lightly oiled skillet, sauté the prosciutto until crisp. Transfer to a paper towel-lined plate and set aside. Add the sprouts to the boiling water and cook until tender, about 3 minutes; drain. Melt the butter over medium-high heat in the skillet used to sauté the prosciutto. Add the shallots, sauté for 2 minutes, then stir in the sprouts. Add the cream, simmer for 2 to 3 minutes, and season with salt and pepper. Top with the prosciutto before serving. Serves 6.
White Hot Chocolate
From Peace Meals
4 cups (1 quart) whole milk
4 cups (1 quart) half-and-half
1 pound good quality white chocolate, chopped
2 teaspoons pure vanilla extract
8 to 10 cinnamon or peppermint sticks
Heat the milk and half-and-half in a saucepan over medium, stirring occasionally. Remove the pan from heat just before the mixture simmers. Add the white chocolate and stir until melted. Whisk in the vanilla; reheat as necessary. Ladle into individual mugs and garnish with a cinnamon or peppermint stick. Serves 8 to 10.
Praline Pumpkin Pie
From Stop and Smell the Rosemary
2 cups plus 1 cup brown sugar, firmly packed
2⁄3 cup finely chopped pecans
4 Tablespoons plus 1 Tablespoon unsalted butter, at room temperature
2 unbaked 9-inch pie crusts
2 large eggs, slightly beaten
1 can (16 ounces) solid pack pumpkin
½ teaspoon salt
2 teaspoons ground cinnamon
½ teaspoon ground nutmeg
½ teaspoon ground ginger
¼ teaspoon ground cloves
1 Tablespoon all-purpose flour
1 can (12 ounces) evaporated milk
Preheat oven to 425 degrees. Combine 2 cups brown sugar, pecans and 4 tablespoons butter. Sprinkle evenly over 2 pie crusts. Bake 10 minutes. Remove from oven and reduce oven to 350 degrees. Combine 1 cup brown sugar, 1 tablespoon butter, eggs, pumpkin, salt, cinnamon, nutmeg, ginger, cloves, flour and milk in a large bowl. Mix well. Divide evenly between 2 pie crusts. Bake 30 minutes, or until a tester inserted into center of pie comes out clean. Serves 16.
Source: November 1, 2019, The Buzz Magazines, Katie Doyle