Houston Junior League Cookbook
The Houston Junior League Cookbook (HJL) is The Junior League of Houston, Inc.'s first cookbook, celebrating its 50th anniversary in 2018. Due to its popularity, the book has been through several reprints with the most recent reprint in 2011, and more than 122,000 copies have been sold.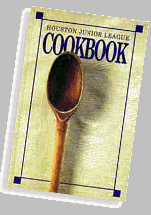 There are over 1,500 easy-to-follow, tried-and-true recipes. HJL is a timeless classic that every cook needs in the kitchen!
Click the "Add to Cart" button below to purchase a book, or contact Publishing at 713.871.6608 or toll-free at 1.800.432.2665 or via email at publishing@jlh.org.
All orders placed via the Junior League website will be shipped to the purchaser and will be subject to shipping fees.  The Junior League offers ground shipping via USPS within the 48 contiguous states. To avoid incurring shipping fees, you may purchase your books in person from The Pantry at the League building, which is open Tuesday through Saturday between 9:30 a.m. and 3 p.m.
Thank you for your support of the Junior League of Houston and its mission.
_______________________________________________________________________
Awards
1994 McIlhenney (Tabasco) Hall of Fame Award
Given by the McIlhenney Co. to Community Cookbooks that have sold over 100,000 copies