"To the world you may be one person, but to one person you may be the world." ~ Theodor Seuss Geisel
We underestimate the power of a kind word, a listening ear, a smile. These humble gestures of kindness have the exponential power to affect others around us. These moments are what people remember. ONE spark of kindness lights the way for others to feel valued and refocuses our energy on what really matters.
This year, the League will award members with the ONEderful Award for the small moments that have an extraordinary impact on others.
October 2021: Judy Peterson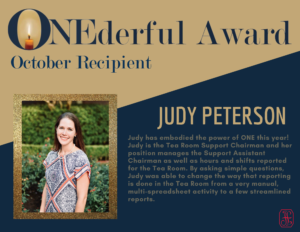 The ONEderful Award winner for October is Judy Peterson. Judy has embodied the power of ONE this year! Judy is the Tea Room Support Chairman and her position manages the Support Assistant Chairman as well as hours and shifts reported for the Tea Room. She noticed the opportunity to utilize Digital Cheetah and the digital sign-in. These changes have streamlined the reporting system. By asking simple questions, Judy was able to change the way that reporting is done in the Tea Room from a very manual, multi-spreadsheet activity to a few streamlined reports.
Judy worked in the audit practice at PwC for 10 years and before leaving to raise her children. Her work at the League has helped her keep up her management and leadership skills. Her time at the League has taught her what women can accomplish when we step out of our comfort zones. When Judy first joined the League, she fell in love with the kitchen placement and was happy there. However, it was her involvement with the photography team which opened her eyes to what an incredible organization the League truly is. She was exposed to many different events, both internal and external, and has since continued to serve in other administrative placements to learn more about the League's operations. The more she's learned about the League, the more excited and proud she is to be a member.
The League has helped Judy to grow personally by giving her the opportunity to take on jobs and responsibilities that she might never have sought out. Through her various roles, Judy found herself developing new skills and talents that she never knew she had.
Judy is a native Texan, wife, mom of two girls (Jessica, age 9 and Elizabeth, age 7), her very senior pup (Minnie Mee, age 16) and two squeaky guinea pigs. She's a runner who just completed her first marathon. She enjoys traveling, photography, scuba diving with her husband, cooking, reading and spending time with friends and family. She also works part time for an international energy company doing their monthly accounting and financial reporting. Judy enjoys volunteering at her daughter's school library. She also continues to support her small hometown library through financial and book donations.
September 2021: Cristina Torres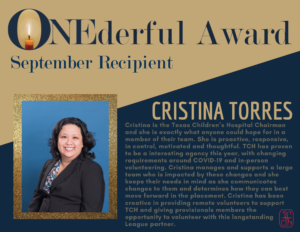 The ONEderful Award winner for September is Cristina Torres. Cristina is the Texas Children's Hospital Chairman and she is exactly what anyone could hope for in a member of their team. She is proactive, responsive, in control, motivated and thoughtful. TCH has proven to be a interesting agency this year, with changing requirements around COVID-19 and in-person volunteering. Cristina manages and supports a large team who is impacted by these changes and she keeps their needs in mind as she communicates changes to them and determines how they can best move forward in the placement. Cristina has been creative in providing remote volunteers to support TCH and giving provisionals members the opportunity to volunteer with this longstanding League partner.
In a year of uncertainty, especially around onsite volunteer placements at TCH, Christina has relied on the adaptability and communication skills learned from the Junior League. She had big shoes to fill from last year, as everything the JLH did to support TCH was basically created from the ground up, but her ability to anticipate the possibility of switching gears with short notice has served her incredibly well in her role. It also helps that she has an incredible group of people that she works with including the Community Impact team, the Provisional team and the TCH Volunteer Services team. Cristina thinks that finding the motivation to go above and beyond is easier when you enjoy what you do and the people you work with. This placement is near and dear to her heart and preserving the TCH legacy and partnership with the JLH is extremely important to her.
Cristina has been a Project Manager for the Memorial Hermann's Physician Network for the past five years where she works with physician-led, multidisciplinary committees on changes in our healthcare system. These changes range from updates to managing COVID-19, to supply chain, and IT changes, to our EMR that impact inpatient and outpatient settings. She loves reading, writing, spending time with friends and family and exploring trails in and around Houston with her dog, Roscoe.
August 2021: Claire Rosenkild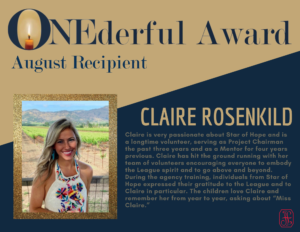 The ONEderful Award winner for August is Claire Rosenkild. Claire is very passionate about Star of Hope and is a longtime volunteer, serving as Project Chairman the past three years and as a Star of Hope Mentor for four years previous. Star of Hope initially thought they would be unable to participate as a project this year, due to the COVID pandemic and a Project Chairman and volunteers were not assigned. However, once Star of Hope informed the Junior League in late May 2021 that they would be able to continue as a project, it was clear that Claire was the woman for the Project Chairman role! Despite already accepting a different placement, Claire was overjoyed to serve as Star of Hope Chairman once again. Making up for any lost time, Claire has hit the ground running with her team of volunteers encouraging everyone to embody the League spirit and to go above and beyond. During the agency training, individuals from Star of Hope expressed their gratitude to the League and to Claire in particular. The children love Claire and remember her from year to year, asking about "Miss Claire."
Since 2015, Star of Hope has found a huge place in Claire's heart. The children she works with are smart, thoughtful and resilient. Each year, she is amazed at how much the League contributes to the agency, not only with weekly tutoring, but also providing food, school supplies and classroom furniture to help meet the needs of the children who live there. Though heartbroken when League volunteers were unable to volunteer in person last year due to safety concerns with COVID, Claire was amazed by how the League found creative ways to support Star of Hope throughout it all.
Claire is a Speech-Language Pathologist at a pediatric private practice, working with children from birth to 18 years of age who have difficulties with speech development or trouble with feeding. When she is not working or at Star of Hope, she loves to travel and to spend as much time as possible with her dog, Grover. During her time with the Junior League, Claire has learned how impressive and unstoppable women are as she witnesses the impact the organization makes with the community.
July 2021: Kelly Hickman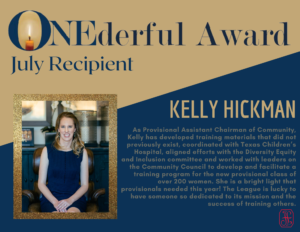 The ONEderful Award winner for July is Kelly Hickman. Last year as Membership Special Project Researcher, not only did she serve in her role of researching scholarships and payment plans, but she went above and beyond by organizing three blood drives hosted at the League. This League year, as Provisional Assistant Chairman – Community, Kelly has developed training materials that did not previously exist, coordinated with Texas Children's Hospital, aligned efforts with the Diversity Equity and Inclusion committee and worked with leaders on the Community Council to develop and facilitate a training program for the new provisional class of over 200 women. Additionally, Kelly has been exactly what the provisionals need this year: she is a bright light! The League is lucky to have someone so dedicated to its mission and the success of training others. Kelly is always willing to execute on ideas and helpful when it comes to working with the community or improving the membership experience.
Kelly has learned a lot during her time in the League, including time management skills, patience and has tried to learn grace in interacting with people. Kelly's motivation for the League comes from remembering her experience being a provisional and making best friends in the League that year. She finds it rewarding to walk people through the process, watching the provisionals make friends, volunteer together and really start to see the wonderful ways that the League can impact not only our lives but the lives of people in our communities. Kelly wishes that the provisionals will have the same wonderful provisional year that she did.
Kelly believes that sometimes news can be overwhelming, and that all we hear about is bad things that happen in the world around us, but when you come to the League, you see thousands of women who have decided to spend their free time to make the world a bit brighter.
Outside of the League, Kelly is a Prosecutor with the Special Prosecution Unit. Essentially, her office has jurisdiction over the prison units, traveling all over the state. She specializes in prosecuting sex offenders working towards sentences of mental health treatment so that they can learn how to better control their behavior. Outside of work, Kelly volunteers with Order of the Easter Star. She also is trying to learn to love running with mixed results, but she keeps on trudging. Kelly has three cats and just got a kitten.
June 2021: Michael Ann Young Singleton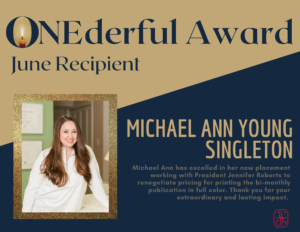 The ONEderful Award winner for June is Michael Ann Young Singleton. This is Michael Ann's fifth year in the League, and she is currently serving as one of the Houston Notes Editors. Michael Ann has excelled in her new placement working with President Jennifer Roberts to renegotiate pricing for printing the bi-monthly publication in full color. A rising star to watch, Michael Ann has a fresh perspective and brings an enthusiastic energy to her placement.
Michael Ann grew up in Tyler, Texas and graduated from the University of Georgia. Working for a few years in Dallas, she decided to get an additional degree from the distinguished Parsons School of Design in New York City. Working with Brighton, a women and men's accessory company, she currently leads the Marketing, Communications and Visuals for the wholesale side of the business. Having spent her career at one company, volunteering for the Junior League has given her an insight into another organization and has helped her fine tune her time management and leadership skills. In her free time, Michael Ann loves to spend time with her husband and one-year-old son.
Working for a very sound, privately owned business really inspired Michael Ann to look at every detail and avenue to improve. That discipline has really given her the passion to find fresh strategies and ways to look at any project she tackles. Continual learning and improvement is so healthy for people as well as businesses and organizations, and Michael Ann is so inspired by the incredibly talented women in the Junior League of Houston.
Thank you, Michael Ann, for displaying the exponential "Power of ONE," the League year theme. Everyone has the power to change the direction through just ONE act. Her ONE inquiry led to a very competitive price, and in turn, an extraordinary and lasting impact on the League.