"To the world you may be one person, but to one person you may be the world." ~ Theodor Seuss Geisel
We underestimate the power of a kind word, a listening ear, a smile. These humble gestures of kindness have the exponential power to affect others around us. These moments are what people remember. ONE spark of kindness lights the way for others to feel valued and refocuses our energy on what really matters.
This year, the League will award members with the ONEderful Award for the small moments that have an extraordinary impact on others.
May 2022: Caitlin Karr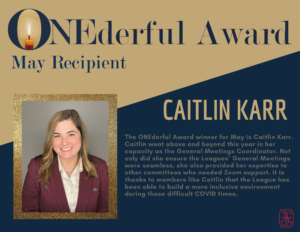 The ONEderful Award winner for May is Caitlin Karr. Caitlin went above and beyond this year in her capacity as the General Meetings Coordinator. Not only did she ensure the Leagues' General Meetings were seamless, she also provided her expertise to other committees who needed Zoom support. Caitlin guided the Admissions Committee as they moved to a hybrid format for the Prospective Member Open Houses. She continued to support the Admissions Committee on the night of their event by going to the League early to help set-up the technology and ensure a well executed hybrid event. It is thanks to members like Caitlin that the League has been able to build a more inclusive environment during these difficult COVID times.
Being a part of the League has given Caitlin the opportunity to work with people of various backgrounds that she otherwise probably would not have the chance to collaborate with in her day to day job. From the people the League serves and our community partners to the amazing ladies in this organization, Caitlin has learned how to communicate more effectively, work cooperatively with various work styles, and help drive change in a different way.
Caitlin believes that change is inevitable. Our League community and make-up is changing. The partners we serve are changing, and we must continue to embrace change to remain relevant and desirable as we continue to bring in new people. General meetings are one area where we can make a small impact. This year, the League tried to make the sharing of happenings of the League and the exciting content from our guest speakers more accessible, while balancing the continuous impacts of COVID and the desire to bring people back home to the League.
Caitlin owns her own business and works as a Change Management Consultant. She enjoys cooking, spending time with her family and friends, and is starting to golf. She has three dogs, and is planning her wedding to her fiancé, Daniel, that take place next February.
April 2022: Courtney Rupp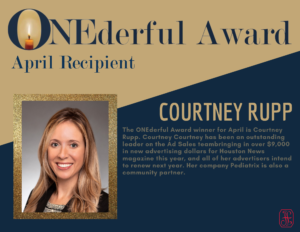 The ONEderful Award winner for April is Courtney Rupp. Courtney has been an outstanding leader on the Ad Sales team bringing in over $9,000 in new advertising dollars for Houston News magazine this year, and all of her advertisers intend to renew next year. Her company Pediatrix is also a community partner.
Courtney's last 10 years in the League have taught her that while service to others through the League is the primary objective, the personal benefits one reaps in tandem are invaluable in terms of renewed appreciation for the blessings of life and the ability to make meaningful connections with others. Courtney believes that small actions in a League placement have a downstream effect. An effect magnified by the collective efforts of everyone in the League pursuing the overall mission to best serve the community.
Courtney serves as the Market Director for Pediatrix Medical Group. Her position is responsible for overseeing operations, growth opportunities, and business development initiatives for all Pediatrix Medical Group's women's and pediatric sub-specialty outpatient practices and hospital-based services throughout Houston and the Gulf Coast region. Her most important role in life is wife to her husband, Adam Rupp, and devoted mother to their three precious boys, Grayson (9), Griffin (7), and Crawford (3).
March 2022: DaviAnn Worthington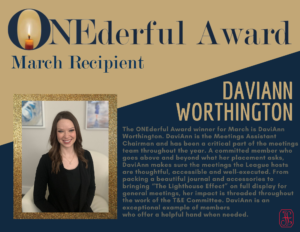 The ONEderful Award winner for March is DaviAnn Worthington. DaviAnn is the Meetings Assistant Chairman and has been a critical part of the meetings team throughout the year. A
committed member who goes above and beyond what her placement asks, DaviAnn makes sure the meetings the League hosts are thoughtful, accessible and well executed. This year, DaviAnn
supported the Admissions Committee as they incorporated a hybrid format for the Prospective Member Open House, coming to the League building to help set-up for the event, ensure all
technology worked correctly and trained the committee members on Zoom. It did not end there! DaviAnn stayed for the first hour to ensure the hybrid format did not have any issues and helped
monitor the chat.
From packing a beautiful journal and accessories to bringing "The Lighthouse Effect" on full display for general meetings, her impact is threaded throughout the work of the T&E Committee.
DaviAnn is an exceptional example of members who offers a helpful hand when needed. She is kind, considerate and above all giving of her time and talents, even when she is not the first to be
recognized for the meetings success, but a large part of how and why they are successful.
One thing DaviAnn has learned because of the League is how supportive women really can be of one another. Before joining the League, she was always intimidated by "groups of girlfriends."
Even in her short time in the League, she has been so lucky to have made such special friendships and experienced the success of working in a team that supports each other. She always leaves League events feeling thankful to be a part of this unique group of women.
DaviAnn is a CPA in tax at PwC. Outside of work, she is enjoying her first year of marriage to her husband Rob, loves snuggling with her two cats, and traveling to Galveston to see her Dad.
February 2022: Alexia "Lexi" McWhinney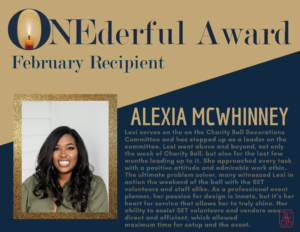 The ONEderful Award winner for February is Alexia "Lexi" McWhinney. Lexi serves on the on the Charity Ball Decorations Committee and has stepped up as a leader on the committee. Lexi went above and beyond, not only the week of Charity Ball, but also for the last few months leading up to it. She approached every task with a positive attitude and admirable work ethic. The ultimate problem solver, many witnessed  Lexi in action the weekend of the ball with the SET volunteers and staff alike. As a professional event planner, her passion for design is innate, but it's her heart for service that allows her to truly shine. Her ability to assist SET volunteers and vendors was direct and efficient, which allowed maximum time for setup and the event.
The League has taught Lexi that people often have more commonalities than differences. The volunteer and service opportunities don't only place volunteers in the community to help others, but also in areas to support members. These commitments allow us to meet other like-minded League members we may have never encountered otherwise, providing a unique opportunity for networking, fellowship and finding kindred spirits in unlikely faces and places.
Lexi's placement on the Charity Ball Decorations Committee allowed her to use her natural talents to support a major event for the League. She didn't feel as though she was going above and beyond at the time. She was motivated to contribute because their team was so receptive to new ideas and fresh approaches to reach the budget objectives while helping create a memorable experience after two years of uncertainty resulting from the COVID-19 pandemic. She knew how important a successful Charity Ball would be to regain momentum in a time when the League is truly needed by the organizations and populations that it supports.
Lexi's most important role outside of the League is Mom to Bailey, her 13 year old daughter. She spends most of her free time supporting Bailey's school and sports activities. By day, Lexi is the Creative Director/Owner of an event planning firm, The Savvy Consultants, and an Estates and Business Attorney at McWhinney Law Firm, PLLC.
January 2022: Meagan Hanson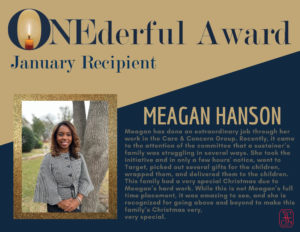 The ONEderful Award winner for January is Meagan Hanson. Meagan has done an extraordinary job through her work in the Care & Concern Group. Recently, it came to the attention of the committee that a sustainer's family was struggling in several ways. Meagan was one of the League volunteers who offered to help provide gifts to the four young children for Christmas. She took the initiative and in only a few hours' notice, went to Target, picked out several gifts for the children, wrapped them, and delivered them to the children. She blew everyone away with her willingness to jump on this need at such short notice. This family had a very special Christmas due to Meagan's hard work. While this is not Meagan's full time placement, it was amazing to see, and she is recognized for going above and beyond to make this family's Christmas very, very special.
Among the things that Meagan has learned from being in the League is the power of a checklist, staying organized and understanding that it's okay to delegate. But most importantly that free
champagne goes a long way. Meagan has found it rewarding that the League provides many areas of development and ways to be successful. Her placement is focused heavily on administration and does not provide the opportunity to see the amazing work that the League provides to the community, so when the Care & Concern Group was created, Meagan was excited to offer to help those within the League. Sometimes, one may just need an extra hand, and it can be difficult to ask for help sometimes. When a League member reached out to Meagan for help during the holidays, it was an easy decision to step up with assistance. She was grateful that the team was able to provide a little bit of joy and relief to a member who simply needed an extra hand.
This past year, Meagan tried to embrace the flexibility of working from anywhere. It has given her the opportunity to travel and explore other countries and also connect with family and friends
across the US. Many of which she rarely got to see before the pandemic due to her work schedule and active involvement with the Houston community. Outside of exploring the world, Meagan stays virtually active with the committees and other organizations she's a part of including HLSR Black Heritage Committee, AIDS Foundation and United Against Human Trafficking. Outside of her personal adventures and volunteering, Meagan is a Change Management Consultant that supports technology implementations within various industries. In other words, she is a professional hand holder that guides people to adopt a new application or tool or change the way they work.
December 2021: Chantel Williams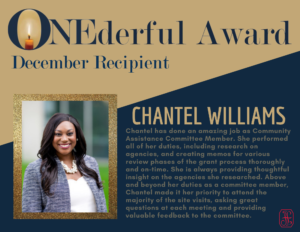 The ONEderful Award winner for December is Chantel Williams. Chantel has done an amazing job as Community Assistance Committee Member. She performed all of her duties, including research on agencies, and creating memos for various review phases of the grant process thoroughly and on-time. She is always providing thoughtful insight on the agencies she researched. Above and beyond her duties as a committee member, Chantel made it her priority to attend the majority of the site visits. Out of 25 site visits, she attended 18, asking great questions at each meeting and providing valuable feedback to the committee.
This was by far Chanel's favorite placement. She loved getting the opportunity to learn about the great work so many organizations are doing in the community outside of the League's community placements. In addition to opening her eyes to the variety of organizations, it also increased her awareness of the vast array of needs that need to be met in our community. It was inspiring to see so many people identifying a need and doing what they could to address it. Because they were all so impressive, she wanted to make a strong effort to visit as many of the organizations in person when it was time.
Chantel has learned so many valuable skills during her time in the League. She joined the League because she wanted to volunteer in the community, but it opened up her world to so much more. As a past Chairman of DePelchin Children's Center, she developed better leadership, organization and time management skills. Above all, she is grateful to the League for exposing her to so many incredible people and organizations that she wouldn't have normally come in contact with, and the ability to learn from their experiences. It's increased her awareness on some of the issues families face in Houston such as autism, childhood cancer, and mental health needs to just name a few.
Chantel moved to Houston from Florida eight years ago. She is a financial planner and owns a wealth management firm, The AFP Group, with her husband. She has a passion for traveling, but she also loves spending time with family and friends, a good brunch, and almost anything outdoors.
November 2021: Hayley Sartin
The ONEderful Award winner for November is Hayley Sartin. As this year's Internal Social Media Manager, Hayley has worked to modernize and streamline the multiple social media channels the League uses. Through her research, work and persistence, she has brought new ideas to the League and helped make social media a viable and more manageable communication tool. In her first year as a League active, Hayley has made a significant impact by improving the quality of graphics, photos and infographic communications across all social media platforms. She's increased the League presence on LinkedIn as well as researched a range of platforms to help automate the posting process to improve consistency of communications for this year and many years to come.
Hayley has worked in the oil and gas industry for over 10 years in various finance and accounting roles. It has taken her all over the world, including two international moves to Canada and Cameroon in West Africa, and lots of international rest and recreations between. Hayley has learned that you can establish a sense of community wherever there is a League. Even though she did a scary, solo move to Canada, she took comfort knowing there was a League to join and Hayley quickly jumped in and felt at home. Here, she managed the social media marketing initiatives which in turn grew her passion and she has expanded her talents in both personal and business endeavors. The League is what Hayley never knew she needed in her life. She believes it has been truly empowering to be part of a group of supportive women and has been so thankful for the kindness and grace she has encountered over the years as well as the opportunities it has afforded her.
Hayley loves travelling, photography, golfing, volunteering with Houston Welcomes Refugees and Big Brother Big Sister. She also enjoys researching and studying various topics with a current passion for social media marketing and data science. Together with her boyfriend, Hayley lives with their three dogs in a high rise in downtown, which is also where they met. Together, they enjoy trying new restaurants, having dinner or game nights with neighbors, and attending puppy play dates.
October 2021: Judy Peterson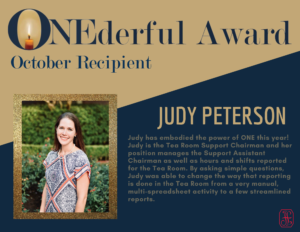 The ONEderful Award winner for October is Judy Peterson. Judy has embodied the power of ONE this year! Judy is the Tea Room Support Chairman and her position manages the Support Assistant Chairman as well as hours and shifts reported for the Tea Room. She noticed the opportunity to utilize Digital Cheetah and the digital sign-in. These changes have streamlined the reporting system. By asking simple questions, Judy was able to change the way that reporting is done in the Tea Room from a very manual, multi-spreadsheet activity to a few streamlined reports.
Judy worked in the audit practice at PwC for 10 years and before leaving to raise her children. Her work at the League has helped her keep up her management and leadership skills. Her time at the League has taught her what women can accomplish when we step out of our comfort zones. When Judy first joined the League, she fell in love with the kitchen placement and was happy there. However, it was her involvement with the photography team which opened her eyes to what an incredible organization the League truly is. She was exposed to many different events, both internal and external, and has since continued to serve in other administrative placements to learn more about the League's operations. The more she's learned about the League, the more excited and proud she is to be a member.
The League has helped Judy to grow personally by giving her the opportunity to take on jobs and responsibilities that she might never have sought out. Through her various roles, Judy found herself developing new skills and talents that she never knew she had.
Judy is a native Texan, wife, mom of two girls (Jessica, age 9 and Elizabeth, age 7), her very senior pup (Minnie Mee, age 16) and two squeaky guinea pigs. She's a runner who just completed her first marathon. She enjoys traveling, photography, scuba diving with her husband, cooking, reading and spending time with friends and family. She also works part time for an international energy company doing their monthly accounting and financial reporting. Judy enjoys volunteering at her daughter's school library. She also continues to support her small hometown library through financial and book donations.
September 2021: Cristina Torres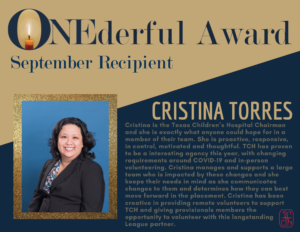 The ONEderful Award winner for September is Cristina Torres. Cristina is the Texas Children's Hospital Chairman and she is exactly what anyone could hope for in a member of their team. She is proactive, responsive, in control, motivated and thoughtful. TCH has proven to be a interesting agency this year, with changing requirements around COVID-19 and in-person volunteering. Cristina manages and supports a large team who is impacted by these changes and she keeps their needs in mind as she communicates changes to them and determines how they can best move forward in the placement. Cristina has been creative in providing remote volunteers to support TCH and giving provisionals members the opportunity to volunteer with this longstanding League partner.
In a year of uncertainty, especially around onsite volunteer placements at TCH, Christina has relied on the adaptability and communication skills learned from the Junior League. She had big shoes to fill from last year, as everything the JLH did to support TCH was basically created from the ground up, but her ability to anticipate the possibility of switching gears with short notice has served her incredibly well in her role. It also helps that she has an incredible group of people that she works with including the Community Impact team, the Provisional team and the TCH Volunteer Services team. Cristina thinks that finding the motivation to go above and beyond is easier when you enjoy what you do and the people you work with. This placement is near and dear to her heart and preserving the TCH legacy and partnership with the JLH is extremely important to her.
Cristina has been a Project Manager for the Memorial Hermann's Physician Network for the past five years where she works with physician-led, multidisciplinary committees on changes in our healthcare system. These changes range from updates to managing COVID-19, to supply chain, and IT changes, to our EMR that impact inpatient and outpatient settings. She loves reading, writing, spending time with friends and family and exploring trails in and around Houston with her dog, Roscoe.
August 2021: Claire Rosenkild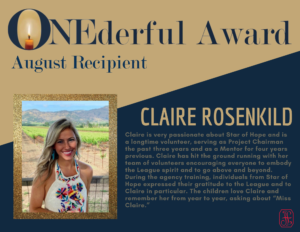 The ONEderful Award winner for August is Claire Rosenkild. Claire is very passionate about Star of Hope and is a longtime volunteer, serving as Project Chairman the past three years and as a Star of Hope Mentor for four years previous. Star of Hope initially thought they would be unable to participate as a project this year, due to the COVID pandemic and a Project Chairman and volunteers were not assigned. However, once Star of Hope informed the Junior League in late May 2021 that they would be able to continue as a project, it was clear that Claire was the woman for the Project Chairman role! Despite already accepting a different placement, Claire was overjoyed to serve as Star of Hope Chairman once again. Making up for any lost time, Claire has hit the ground running with her team of volunteers encouraging everyone to embody the League spirit and to go above and beyond. During the agency training, individuals from Star of Hope expressed their gratitude to the League and to Claire in particular. The children love Claire and remember her from year to year, asking about "Miss Claire."
Since 2015, Star of Hope has found a huge place in Claire's heart. The children she works with are smart, thoughtful and resilient. Each year, she is amazed at how much the League contributes to the agency, not only with weekly tutoring, but also providing food, school supplies and classroom furniture to help meet the needs of the children who live there. Though heartbroken when League volunteers were unable to volunteer in person last year due to safety concerns with COVID, Claire was amazed by how the League found creative ways to support Star of Hope throughout it all.
Claire is a Speech-Language Pathologist at a pediatric private practice, working with children from birth to 18 years of age who have difficulties with speech development or trouble with feeding. When she is not working or at Star of Hope, she loves to travel and to spend as much time as possible with her dog, Grover. During her time with the Junior League, Claire has learned how impressive and unstoppable women are as she witnesses the impact the organization makes with the community.
July 2021: Kelly Hickman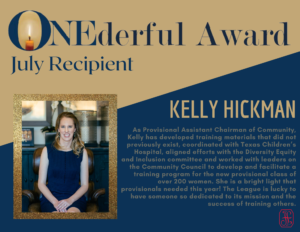 The ONEderful Award winner for July is Kelly Hickman. Last year as Membership Special Project Researcher, not only did she serve in her role of researching scholarships and payment plans, but she went above and beyond by organizing three blood drives hosted at the League. This League year, as Provisional Assistant Chairman – Community, Kelly has developed training materials that did not previously exist, coordinated with Texas Children's Hospital, aligned efforts with the Diversity Equity and Inclusion committee and worked with leaders on the Community Council to develop and facilitate a training program for the new provisional class of over 200 women. Additionally, Kelly has been exactly what the provisionals need this year: she is a bright light! The League is lucky to have someone so dedicated to its mission and the success of training others. Kelly is always willing to execute on ideas and helpful when it comes to working with the community or improving the membership experience.
Kelly has learned a lot during her time in the League, including time management skills, patience and has tried to learn grace in interacting with people. Kelly's motivation for the League comes from remembering her experience being a provisional and making best friends in the League that year. She finds it rewarding to walk people through the process, watching the provisionals make friends, volunteer together and really start to see the wonderful ways that the League can impact not only our lives but the lives of people in our communities. Kelly wishes that the provisionals will have the same wonderful provisional year that she did.
Kelly believes that sometimes news can be overwhelming, and that all we hear about is bad things that happen in the world around us, but when you come to the League, you see thousands of women who have decided to spend their free time to make the world a bit brighter.
Outside of the League, Kelly is a Prosecutor with the Special Prosecution Unit. Essentially, her office has jurisdiction over the prison units, traveling all over the state. She specializes in prosecuting sex offenders working towards sentences of mental health treatment so that they can learn how to better control their behavior. Outside of work, Kelly volunteers with Order of the Easter Star. She also is trying to learn to love running with mixed results, but she keeps on trudging. Kelly has three cats and just got a kitten.
June 2021: Michael Ann Young Singleton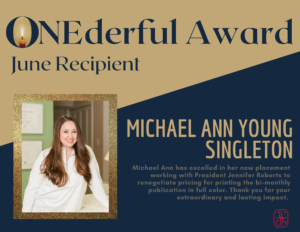 The ONEderful Award winner for June is Michael Ann Young Singleton. This is Michael Ann's fifth year in the League, and she is currently serving as one of the Houston Notes Editors. Michael Ann has excelled in her new placement working with President Jennifer Roberts to renegotiate pricing for printing the bi-monthly publication in full color. A rising star to watch, Michael Ann has a fresh perspective and brings an enthusiastic energy to her placement.
Michael Ann grew up in Tyler, Texas and graduated from the University of Georgia. Working for a few years in Dallas, she decided to get an additional degree from the distinguished Parsons School of Design in New York City. Working with Brighton, a women and men's accessory company, she currently leads the Marketing, Communications and Visuals for the wholesale side of the business. Having spent her career at one company, volunteering for the Junior League has given her an insight into another organization and has helped her fine tune her time management and leadership skills. In her free time, Michael Ann loves to spend time with her husband and one-year-old son.
Working for a very sound, privately owned business really inspired Michael Ann to look at every detail and avenue to improve. That discipline has really given her the passion to find fresh strategies and ways to look at any project she tackles. Continual learning and improvement is so healthy for people as well as businesses and organizations, and Michael Ann is so inspired by the incredibly talented women in the Junior League of Houston.
Thank you, Michael Ann, for displaying the exponential "Power of ONE," the League year theme. Everyone has the power to change the direction through just ONE act. Her ONE inquiry led to a very competitive price, and in turn, an extraordinary and lasting impact on the League.