"To the world you may be one person, but to one person you may be the world." ~ Theodor Seuss Geisel
We underestimate the power of a kind word, a listening ear, a smile. These humble gestures of kindness have the exponential power to affect others around us. These moments are what people remember. ONE spark of kindness lights the way for others to feel valued and refocuses our energy on what really matters.
This year, the League will award members with the ONEderful Award for the small moments that have an extraordinary impact on others.
June 2021
Michael Ann Young Singleton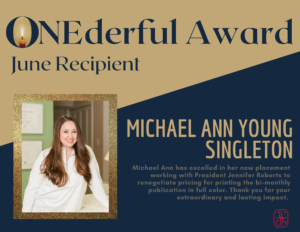 The ONEderful Award winner for June is Michael Ann Young Singleton. This is Michael Ann's fifth year in the League, and she is currently serving as one of the Houston Notes Editors. Michael Ann has excelled in her new placement working with President Jennifer Roberts to renegotiate pricing for printing the bi-monthly publication in full color. A rising star to watch, Michael Ann has a fresh perspective and brings an enthusiastic energy to her placement.
Michael Ann grew up in Tyler, Texas and graduated from the University of Georgia. Working for a few years in Dallas, she decided to get an additional degree from the distinguished Parsons School of Design in New York City. Working with Brighton, a women and men's accessory company, she currently leads the Marketing, Communications and Visuals for the wholesale side of the business. Having spent her career at one company, volunteering for the Junior League has given her an insight into another organization and has helped her fine tune her time management and leadership skills. In her free time, Michael Ann loves to spend time with her husband and one-year-old son.
Working for a very sound, privately owned business really inspired Michael Ann to look at every detail and avenue to improve. That discipline has really given her the passion to find fresh strategies and ways to look at any project she tackles. Continual learning and improvement is so healthy for people as well as businesses and organizations, and Michael Ann is so inspired by the incredibly talented women in the Junior League of Houston.
Thank you, Michael Ann, for displaying the exponential "Power of ONE," the League year theme. Everyone has the power to change the direction through just ONE act. Her ONE inquiry led to a very competitive price, and in turn, an extraordinary and lasting impact on the League.