Soar Awards 2020 – 2021
The Butterfly Effect: "Every single thing you do matters. You have been created as one of a kind. You have been created in order to make a difference. You have within you the power to change the world."  Andy Andrews
The "Butterfly Effect" is the idea that even the smallest act can have a ripple effect, expanding outwards and resulting in a huge area of impact. Everything you do matters. Everything you do as a volunteer with the Junior League of Houston matters, and all the time and energy you put into this organization and the organizations it serves generates an incalculable, positive impact.
This year the League will award a league member a SOAR Award every month for going above and beyond. League members truly SOAR when they Serve Others Altruistically and Reliably.
July 2020: Sarah Loudermilk
This month's SOAR Award recipient is Sarah Loudermilk.
Sarah is an active member of the Junior League of Houston and is currently the Children's Museum of Houston Chairman. Sarah is indeed soaring in her placement this year as she was required to think outside of the box to adapt the way volunteers would serve at the museum due to the impact of COVID-19. Sarah said she "loves a challenge and wanted to make sure we could still support our community in a way that may be different, but rewarding."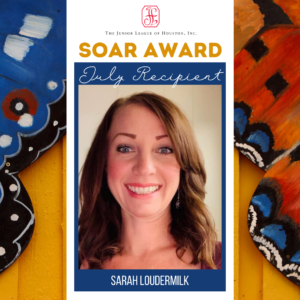 August 2020 – Lyndsey Knight
Join the League in Congratulating the August SOAR Award recipient, Lyndsey Knight. Lyndsey is an active member with 10 years of League service and is currently serving as the Ready Hands Chairman.
In March, Lyndsey's husband tested positive for COVID-19. During their month-long quarantine, Lyndsey realized how difficult COVID-19, and this time period, would be for the Houston Community, and specifically the Houston non-profit community. She was particularly aware that the non-profit community would suffer from a significant loss of volunteer and financial support. As a result, she has stepped up and expanded the role of Ready Hands Chairman to include the leadership of the new volunteer IMPACT placement. Lyndsey is committed to meeting the needs of both the community and the League in the best way possible this year.
Lyndsey is a lawyer by training, but has dedicated herself to non-profit service. She currently helps administer a program called Project Flourish for the First Presbyterian Church of Houston, which awards grant money to startups that benefit and serve the city of Houston.
From her membership in the League, Lyndsey has learned about the depth and breadth of unmet needs in the Houston community, how a strong non-profit governs itself and how to lead and manage a team effectively.
September 2020 – Candace Denton
Candace is a provisional member just beginning her League experience!
As a provisional, Candace has had to adapt to a very different year than she first anticipated.  She has embraced all the changes and unexpected turns with grace and a positive attitude.  When Candace realized that Childspree would look different this year, she worked hard to ensure this special annual League event was successful by volunteering to shop for multiple families.  She was grateful for the opportunity to put her Target shopping skills to good use!
Candace is a native Houstonian, and earned her undergrad degree from the University of Arkansas.  While in Arkansas, Candace volunteered at a program similar to Childspree called Sharing and Caring, and was thrilled to learn that the League had a similar volunteer opportunity when she joined.  Volunteering with the League this year has taught her to be as flexible as possible.
In her professional life Candace works at NOV as an Account Manager in the Pole Products Division and also volunteers on two different Houston Livestock Show and Rodeo committees—Carnival Ticket Sales and Rodeo Merchandising.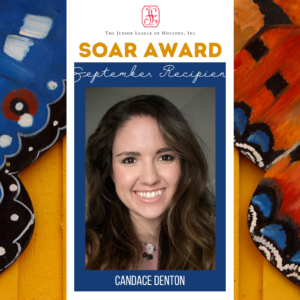 October 2020 – Stacey Gregg
The October SOAR Award recipient is Stacey Gregg.  Stacey has been a member of the League since 2015 and is currently serving as the Kids' Meals Chairman. Stacey  has volunteered with Kids' Meals as long as she's been an active, having served in every role from volunteer to Chairman!
Stacey has learned how to be flexible from her time volunteering with the League, a skill she relied on this year. Due to the pandemic,  the needs for Kids' Meals doubled almost overnight.  With over five years of experience in the placement, Stacey saw the opportunity for others outside of the Kids' Meals placement to help meet the sudden increase.  Stacey worked with the League to open additional shifts and provide the necessary training to new volunteers to meet the community needs during the pandemic by providing nutritious meals.  She worked hard to make sure the training was done safely and that League members could continue volunteering and making a positive impact in the community.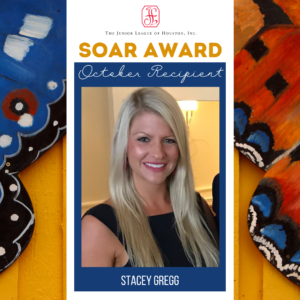 November 2020 – Shine George
The November SOAR Award winner is Shine George. Shine has been a member of the League since 2016. She has spent the last three years working in the MD Anderson Cancer Center placement, and has served as Project Chairman for the last two years.
As a member of the League, one of the lessons Shine learned is how invaluable her time is, and that even a small amount of time spent volunteering can have a huge impact in the community and the people who need help the most.
When it was determined Shine would not be able to fulfill her MD Anderson placement due to the fact that in person volunteering had been put on hold due to the pandemic, she was asked to organize a new project for the League, Carrying Hope. For Carrying Hope, Shine was able to organize volunteers and arrange for the creation of 49 HOPE packs and 72 shampoo kits, which provide foster children essential items they need in the first 48 hours of foster care.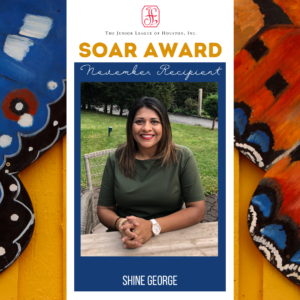 December 2020 – Elise Madray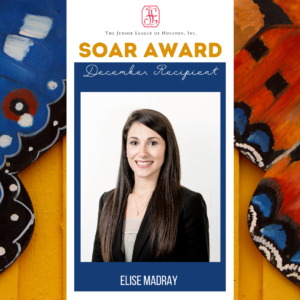 December's SOAR Award winner is Elise Madray! Elise has been a member of the Junior League since 2014. She has volunteered with Baylor Teen Health Clinic since 2017, and for the last two years she has served as the Phone Outreach Coordinator. In her time at the League, she has learned the importance of always being early. 
 
Elise was nominated for the SOAR Award for going above and beyond in helping embrace, organize, and improve the changes that were made to the Baylor Teen Health Clinic Phone Outreach placement. The Baylor Teen Health Clinic Phone Outreach placement was impacted by the COVID-19 pandemic, and therefore volunteers were unable to visit the hospital or meet the Health Clinic mothers to ask them to join the phone outreach program. As a result of Elise's passion and advocacy for the phone outreach program, and motivated to reimagine service in the program, which she has found to be so impactful, Elise worked to create a new vision for the placement that allowed League members to continue to serve the clients at the Baylor Teen Health Clinic during this different year. The improved program satisfies COVID safety precautions, meets volunteer hours, keeps the heart of the League's placement and continues to make a great impact on a community of new mothers. 
 
Professionally, Elise is a Civil Engineer. However, she is currently enjoying time with her three beautiful children, Ben, Mary, and Madge.
January 2020 – Ashley Seals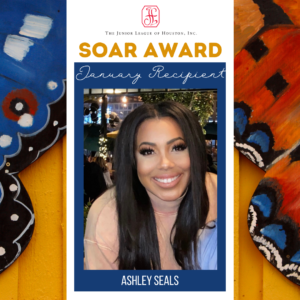 January's SOAR Award winner is Ashley Seals! Ashley joined the League in 2017, and since her provisional year, she has volunteered with Texas Children's Hospital as a tutoring Head Active and served as the League's External Social Media Manager. This year, Ashley is serving as the Transfer Assistant Chairman for Education and Engagement.
Ashley was nominated for the SOAR Award for SOARing in her placement as Transfer Assistant Chairman. In her role, Ashley has worked diligently to make the 2020 – 2021 transfer journey an enjoyable and positive experience for all transfers. Ashley has been thoughtful and creative in her approach, encouraging new members to foster relationships with the League and each other during this difficult year. The results of Ashley's hard work have been a wonderful and happy new transfer class. Ashley truly enjoys this role because of how much she values the relationships she has formed in the League during her time as a member. She understands how isolated people feel during this pandemic, and wanted to ensure all women joining the Junior League felt connected and welcome. As a member of the League, Ashley has learned that if you surround yourself with the right people, anything is possible.
Outside of the League, Ashley works as a project manager for the communications department of the Houston-Galveston Area Council. When she is not working, she also volunteers with the Arthritis Foundation and her local alumni chapter of Kappa Alpha Theta Sorority. Ashley loves filling her time with brunches, fitness classes, sports, watching her beloved LSU Tigers, and was even an extra in the movie 'Pitch Perfect."  She also is considering attaining her makeup artist license in 2021!
February 2020 – Sarah Davidson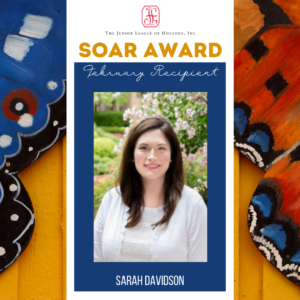 February's SOAR Award winner is Sarah Davidson. Sarah has been a member of the Junior League since 2015. Sarah is currently the Houston News Assistant Editor after serving as a Houston News Writer for the previous two years. Sarah was nominated for the SOAR Award for going above and beyond in supporting the Houston News Publication.
Sarah has been living and working in Singapore since late 2019, and despite working from across the globe, she has continued to be a wonderful asset to the Houston News team. Sarah has led the way in collecting advertisements for the publication and writing stories for the magazine that highlight exceptional League members.
As the global health pandemic continues, the Houston News team has pivoted to address an ever-changing League year, and the new solutions the League has created to serve our community during this unique time. Sarah noticed all these bold and innovative ways that League members were reimaging how to help in the Houston community, and sought to find ways to share those inspirational stories. Sarah turned her focus to sharing these accomplishments through writing stories that highlighted League members and their imaginative and inventive work on behalf of the Junior League this year.
Through her time in the League, Sarah has learned that thoughtful and ambitious women are unstoppable. Sarah is currently based in Singapore as she opens the first international office of GATE Energy, a Houston-headquartered engineering consultancy. She is a member of the American Chamber of Commerce in Singapore and enjoys cooking local dishes and exploring Singapore's architectural and restaurant scene in her spare time.
March 2020 – Amanda Golembieski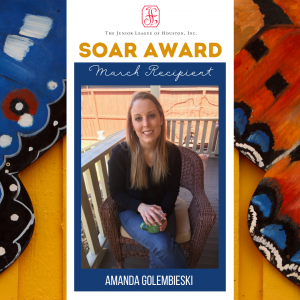 The SOAR Award winner for March is Amanda Golembieski! Amanda joined the Houston Junior League in 2012, and after a brief transfer to a different league, returned to Houston in 2018. Amanda is currently volunteering as an IMPACT Placement Volunteer. She has previously volunteered for Kids' Meals and in the Ready Hands placement.
Amanda was nominated for the SOAR Award for her work in coordinating Kids' Meals shifts for IMPACT volunteers. This work is outside  her role as an IMPACT volunteer, and includes collaborating with Kids' Meals leadership, as well as coordinating with League volunteers. Amanda used her past experience as a volunteer in the placement to advocate for more opportunities for League volunteers to serve when she discovered the vast needs of the children served by Kids' Meals' due to the significant increase in food insufficiencies across our city through this extraordinary year. Amanda is passionate about Kids' Meals, and their mission to help feed hungry children.
As a result of this work and her time at the League, Amanda feels stronger as a leader and has used this knowledge to assist in other organizations she is involved in as well as in her career.
Professionally, Amanda works as a Senior Systems and Aerospace Engineer on the Joint Polar Satellite System program. She also volunteers with the Houston Arboretum and is involved with Alpha Xi Delta Houston and the Society of Women Engineers. Amanda  is married and has a beautiful baby boy named Xander. She's an avid reader, with a goal of and reading one book a week, and she holds season tickets to the Alley Theatre and the Houston Symphony!
April 2020 – Courtney Baker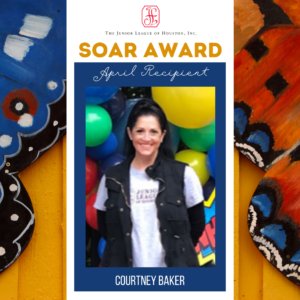 The April SOAR Award winner is Courtney Baker! Courtney is currently volunteering as the Focus Area Chairman and also serves on the Board of Directors in an At-Large position.
Courtney was nominated for the SOAR Award because of her amazing work in creating and organizing the Junior League Community "SUPER" Market events.
At the start of the League year, and at the height of the COVID-19 pandemic, League leaders realized that the focus area should shift in order to use League resources and volunteer efforts to meet the most pressing and basic needs paramount in our community. Courtney lifted the idea of a Community "SUPER" Market, a one stop shop for the families supported by the agencies the League assists. She reached out to League supporters, contacts at Houston area charities and businesses, and friends and was able to get the Fall "SUPER" Market event almost fully underwritten. The Fall "SUPER" Market was able to directly impact the lives of over 1,500 people. After seeing the success of the event, a second Holiday "SUPER" Market was created to serve families at the end of the year. While organizing the third Community Spring "SUPER" Market, Winter Storm Uri hit Houston and the state of Texas. The League was able to pivot again quickly and created a Crisis Food and Water Drive to aid more than 250 families and 2000 Houstonians who were impacted by the winter storm.
While the success of the Community "SUPER" Markets were a team effort, and Malcom Rowland, the Junior League Kitchen staff and volunteers across many areas of the League contributed greatly, it was Courtney's vision and organization that made a lasting impact on the community during an unprecedented year. Her work truly SOARed for the League and has had a massive impact in our community.
Courtney currently works as a lawyer with Sheehy, Ware & Pappas. Over her 17 years in the League, Courtney has volunteered and supported the League in many different leadership roles, including Charity Ball Decorations Chairman, Open Meetings Coordinator and Community Assistance Committee Member. Outside of her work at the League, Courtney is incredibly active in the community. She volunteers at her children's school, is serving as the Vice Chair of Development for the Pulmonary Fibrosis Foundation, serves as a vacation bible school teacher, is working on the 'Bone Bash' for the Arthritis Foundation and is the Fashion in the Fields Co-Chair for Recipe for Success, in addition to many other activities!