Soar Awards 2020 – 2021
The Butterfly Effect: "Every single thing you do matters. You have been created as one of a kind. You have been created in order to make a difference. You have within you the power to change the world."  Andy Andrews
The "Butterfly Effect" is the idea that even the smallest act can have a ripple effect, expanding outwards and resulting in a huge area of impact. Everything you do matters. Everything you do as a volunteer with the Junior League of Houston matters, and all the time and energy you put into this organization and the organizations it serves generates an incalculable, positive impact.
This year the League will award a league member a SOAR Award every month for going above and beyond. League members truly SOAR when they Serve Others Altruistically and Reliably.
July 2020: Sarah Loudermilk
This month's SOAR Award recipient is Sarah Loudermilk.
Sarah is an active member of the Junior League of Houston and is currently the Children's Museum of Houston Chairman. Sarah is indeed soaring in her placement this year as she was required to think outside of the box to adapt the way volunteers would serve at the museum due to the impact of COVID-19. Sarah said she "loves a challenge and wanted to make sure we could still support our community in a way that may be different, but rewarding."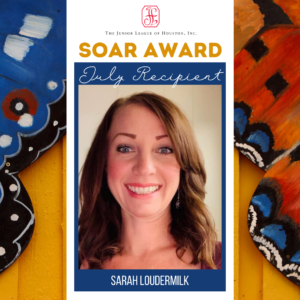 August 2020 – Lyndsey Knight
Join the League in Congratulating the August SOAR Award recipient, Lyndsey Knight. Lyndsey is an active member with 10 years of League service and is currently serving as the Ready Hands Chairman.
In March, Lyndsey's husband tested positive for COVID-19. During their month-long quarantine, Lyndsey realized how difficult COVID-19, and this time period, would be for the Houston Community, and specifically the Houston non-profit community. She was particularly aware that the non-profit community would suffer from a significant loss of volunteer and financial support. As a result, she has stepped up and expanded the role of Ready Hands Chairman to include the leadership of the new volunteer IMPACT placement. Lyndsey is committed to meeting the needs of both the community and the League in the best way possible this year.
Lyndsey is a lawyer by training, but has dedicated herself to non-profit service. She currently helps administer a program called Project Flourish for the First Presbyterian Church of Houston, which awards grant money to startups that benefit and serve the city of Houston.
From her membership in the League, Lyndsey has learned about the depth and breadth of unmet needs in the Houston community, how a strong non-profit governs itself and how to lead and manage a team effectively.
September 2020 – Candace Denton
Candace is a provisional member just beginning her League experience!
As a provisional, Candace has had to adapt to a very different year than she first anticipated.  She has embraced all the changes and unexpected turns with grace and a positive attitude.  When Candace realized that Childspree would look different this year, she worked hard to ensure this special annual League event was successful by volunteering to shop for multiple families.  She was grateful for the opportunity to put her Target shopping skills to good use!
Candace is a native Houstonian, and earned her undergrad degree from the University of Arkansas.  While in Arkansas, Candace volunteered at a program similar to Childspree called Sharing and Caring, and was thrilled to learn that the League had a similar volunteer opportunity when she joined.  Volunteering with the League this year has taught her to be as flexible as possible.
In her professional life Candace works at NOV as an Account Manager in the Pole Products Division and also volunteers on two different Houston Livestock Show and Rodeo committees—Carnival Ticket Sales and Rodeo Merchandising.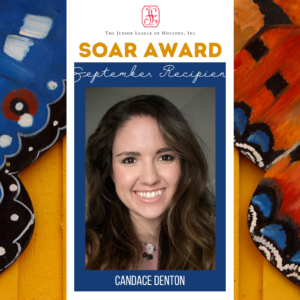 October 2020 – Stacey Gregg
November 2020 – Shine George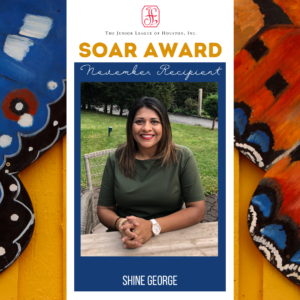 November 2020 – Shine George