Thanksgiving Provisions Houston-Style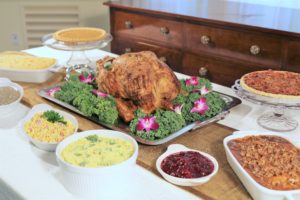 This year, order your Thanksgiving dinner to-go from The Junior League of Houston. The League is offering a complete Thanksgiving meal package or items à la carte (made in-house at The Pantry). For $250, your Thanksgiving meal will include a 22-lb. roasted turkey, cornbread dressing, one quart of giblet gravy, mashed sweet potatoes with brown sugar and pecans, corn casserole made with bacon and sour cream, cheesy broccoli rice casserole, one pint of cranberry-orange relish, two dozen signature dinner rolls, one pecan pie and one pumpkin pie (serves 12 people). Meals will be ready to heat up for you and your family to enjoy!
Deadline: Orders must be placed by Thursday, November 18th. Menu available at https://www.jlh.org/thanksgiving-2021 or call The Pantry at 713-622-5965. Orders can be picked up from 10 a.m. – 1p.m. on Wednesday, November 24th at The Junior League of Houston, 1811 Briar Oaks Lane, Houston, TX 77027.
Source: November 9, 2021, Taste Houston, by Zoraida Hernandez