Cooking Buzz is produced in partnership with the Junior League of Houston, a women's charitable and education organization founded in 1925.
After 40 days of reflection, some fasting, and too much fish on Fridays, Lent culminates in a Sunday celebration. Easter is often the first major gathering of the new year and marks an occasion best served by bringing family and friends together for lunch.
Lamb is a nice change of pace from the turkeys and hams of the winter holidays. The Mesquite-Grilled Leg of Lamb allows you to take advantage of prime Texas grilling weather and cooks in less than an hour. Pair it with the Spinach and Goat Cheese Salad with Warm Balsamic Vinaigrette and Balsamic Glazed Carrots. For dessert, the Normandy Peach Tart is inspired by French patisseries and pairs wells with coffee or hot espresso.
Now I understand that lamb is not enjoyed by many Americans – it's been falling in popularity since the 1940s. When prepared with fresh American-grown lamb, this recipe is absolutely delicious, and this is coming from someone who hates lamb 95 percent of the time.
But perhaps ham is your Easter go-to. You could bake and glaze a ham like everybody else, or you could do something a little wild! I've never stuffed a ham, but this Vicksburg Stuffed Ham recipe makes me want to. And further, in the spirit of traditionalism, here's a recipe for Best Ever Stuffed Eggs. For those who want a twist, try the Smoked Salmon-Stuffed Eggs. Lastly, fresh, homemade bread is a nice touch to holiday meals. Try our Easy Dinner Rolls recipe.
From Stop and Smell the Rosemary 12 ounces of beer
Juice of 1 large lemon
½ cup virgin olive oil
6 large sprigs fresh rosemary, chopped
2 bay leaves, crumbled
3 cloves garlic, crushed
1 Tablespoon sugar
½ cup soy sauce
2 teaspoons dry mustard
1 leg of lamb (5 to 6 pounds), butterflied
½ cup unsalted butter, melted
2 gloves garlic, crushed
Salt
Freshly ground pepper
Combine beer, lemon juice, olive oil, rosemary, bay leaves, garlic, sugar, soy sauce, and dry mustard in a large nonmetallic bowl. Place lamb in marinade. Cover and refrigerate 6 to 12 hours, turning occasionally.
Prepare grill with mesquite chips and charcoal. Remove lamb from marinade and discard marinade. Grill 15 to 20 minutes. Turn and grill other side 15 to 20 minutes. Set aside and keep warm.
Combine butter, garlic, salt, and pepper in a small bowl. Brush butter over cooked lamb and serve. Serves 6.
Spinach and Goat Cheese Salad with Warm Balsamic Vinaigrette
From Stop and Smell the Rosemary ⅓ cup balsamic vinegar
1 Tablespoon Dijon mustard
1 Tablespoon honey
½ teaspoon poppy seeds
⅔ cup extra virgin olive oil
2 pounds fresh spinach, torn and coarse stems discarded
2 red bell peppers, roasted, seeded, and cut into strips
4 ounces crumbled goat cheese
1 red onion, halved and thinly slices
Combine vinegar, mustard, honey, and poppy seeds in a small saucepan. Whisk in oil. Bring to a boil over medium-low heat. Remove from heat.
Arrange spinach on individual plates and drizzle with vinaigrette. Top with red pepper strips, goat cheese, and red onion. Serves 6-10.
From Peace Meals 2 Tablespoons olive oil
2 Tablespoons unsalted butter
1 pound fresh baby carrots, peeled
2 large shallots, thinly sliced
1 red bell pepper, seeded and diced (about 1 cup)
3 Tablespoons balsamic vinegar
1½ Tablespoons light brown sugar
½ teaspoon coarse salt
¼ teaspoon freshly ground pepper
2 Tablespoons finely chopped fresh parsley
Heat the olive oil and butter in a large skillet over medium-high heat. Sauté the carrots, shallots, and bell pepper until the carrots are tender and slightly browned, stirring occasionally. Stir in the vinegar, brown sugar, salt, and pepper. Reduce heat and cook for 5 minutes or until the liquid is reduced and the vegetables begin to glaze. Remove from heat, garnish with the parsley and serve immediately. Serves 4-6.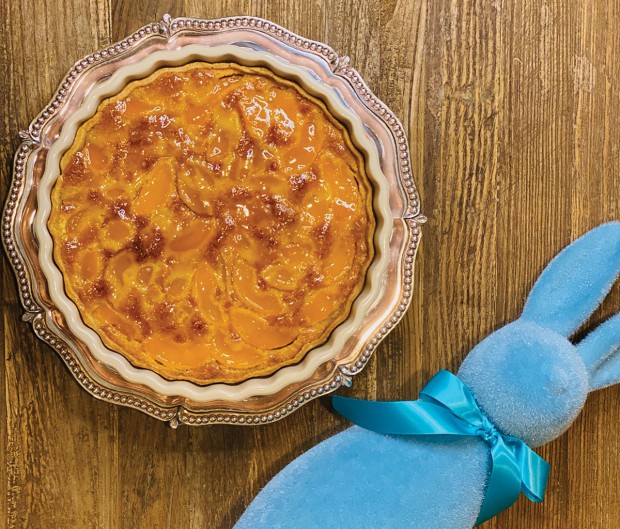 From Peace Meals
Almond Cream: ⅔ cup slivered and blanched almonds
½ cup sugar, divided
6 Tablespoons unsalted butter, softened
2 eggs
2 teaspoons rum (or 1 teaspoon pure vanilla extract)
2 Tablespoons all-purpose flour
Tart: 1 refrigerated pie crust, unbaked
4 ripe peaches (or 1 can of halved peaches), sliced
Glaze: ⅓ cup peach jelly
4 teaspoons rum
Preheat the oven to 425°F. Position a rack in the lower third of the oven and put in a baking sheet to preheat.
Almond Cream: Grind the almonds into a fine powder in a food processor with 2 tablespoons of the sugar; transfer to a small bowl and set aside. Place the butter in the food processor and blend until soft. Add the remaining 6 tablespoons of sugar and process until smooth. Beat in the eggs one at a time, then add the almond mixture, rum, and flour and process until smooth.
Tart assembly: Place the crust into a 9-inch pie dish and crimp the edges. Spread the almond cream evenly over the bottom of the crust. Arrange the peach slices over the almond cream. Press slightly to flatten out the slices. Place the tart on the preheated baking sheet. Bake for 10 minutes. Reduce the temperature to 350°F and bake until the almond cream is set and golden brown, about 25 to 30 minutes. Cool on a wire rack.
Glaze: Heat the jelly and rum in a small saucepan over low, stirring often, until melted. Strain the mixture into a bowl, discarding the solids. Brush the glaze over the top of the cooled tart. Serve at room temperature. Serves 8-10.
From The Star of Texas Cookbook Medium-sized ham, bone-in
1 Tablespoon vinegar
2 Tablespoons brown sugar
Steaming water
Dressing: 1 cup ham fat, chopped fine
3 cups breadcrumbs
1 cup chopped parsley
1 cup chopped celery
¾ cup chopped onion
1 Tablespoon dry mustard
1 Tablespoon celery seed
1 Tablespoon mustard seed
½ teaspoon black pepper
2 Tablespoon brown sugar
2 Tablespoons vinegar
1 egg
Dash thyme
Preheat over to 300°F. Cut off ham hock. Add vinegar and brown sugar to water, and steam ham until meat is tender enough to feel loose at the bone. Remove bone and all fat. Bone should twist out easily. Reserve a cup of the fat and meat trimmings. Combine dressing ingredients. Fill bone cavity with dressing. Depending on the size of ham, dressing amount may need to be doubled. Cover outside of ham about 2½ inches thick with remaining dressing. Wrap securely in cheesecloth and tie tightly with cord. Bake for 30 minutes to 1 hour until crust forms nicely. Chill for 24 hours and slice very thin.
From The Junior League of Houston Cookbook 4 hard-cooked eggs
1 teaspoon minced onions
⅛ teaspoon dry mustard
⅛ teaspoon salt
Dash Tabasco
¼ cup mayonnaise
Cut eggs in halves, lengthwise. Remove yolks; force through sieve into bowl. Add remaining ingredients (use more seasoning if desired). Fill centers of egg whites with yolk mixture; chill. Makes 8 halves.
From The Star of Texas Cookbook 4 hard-cooked eggs
½ cup mashed smoked salmon
3 Tablespoons mayonnaise
Capers and dillweed for garnish
Cut eggs in half lengthwise. Remove and mash yolks with salmon and mayonnaise. Fill egg whites with mounds of stuffing and garnish with capers and dillweed.
From The Star of Texas Cookbook 3 eggs, beaten
1 heaping teaspoon salt
½ cup sugar
½ cup butter, melted
1 package dry yeast
1 cup warm water
4½ cups flour
Combine eggs, salt, sugar, and butter. Dissolve yeast in warm water and add to butter mixture. Using electric mixer, gradually blend in flour. Dough will be gooey. Let rise in a warm place for 4 hours. Cover tightly and refrigerate overnight. Four hours before cooking, roll out dough to ¼-inch thick and cut out rolls with a biscuit cutter to make Parker House rolls. Dip in melted butter, fold in half, and place in a pan touching each other. Let rise again for 4 hours. Preheat oven to 450°F. Bake for 7 to 12 minutes. If rolls brown too quickly, cover loosely with foil. This dough will keep refrigerated for 3 to 4 days. Rolls may be frozen after they are in the pans but before the second rising. Remove rolls from the freezer 4 to 5 hours before cooking and put them in a warm place to rise. Baking time may be a little longer.
Source: March 29, 2021, The Buzz Magazines, Erin Faulkner